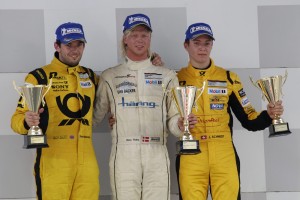 Where we say in football that the match lasts for 90 minutes, we say in motorsport that the season is still long. That's pretty much how Project 1's situation could be described. After a moderate degree of success in the first race, we now have our goals clearly in view: driver's title with Sean Edwards and best juniors with Sean Johnston and Jeffrey Schmidt.
At first, it didn't look like Sean Edwards would be able to finish the weekend as the big winner. Achieving positions 3 and 2 in qualifying, and finishing the first race in 5th place, at first he appeared to be losing out to his opponents. However, the good thing about having a second race each weekend is that the drivers get a second chance and this is what Sean Edwards used on Sunday.
After a good start, the only driver who finished the race in front of him was double winner Nicki Thiim. "It was a good race for me and the team. We've worked hard and with second place today we've won a lot of important points for the Championship" said a happy Edwards, who also stayed fair. "An accident and no points are a disaster for any driver. It was me in Spielberg and here at the Lausitzring it was Kévin Estre. You don't wish it on anybody but we'll gladly take it. The competition stays exciting and we're back in business." With a total of 30 points, Sean Edwards has regained 2nd place in the Championship and at the same time has reduced the gap to leader Kévin Estre to 16 points. With ten races still left this season, there are plenty of chances to reach the top of the leader board.
Normally, people's expectations of a rookie, a driver who is new in the Porsche Carrera Cup, are limited. Results inside the top ten are usually declared as goals and are realistic, but Jeffrey Schmidt would never have anticipated a result like he achieved today. His declared goal at the start of the weekend was a top ten finish. On Saturday, he narrowly missed his target, finishing in 12th place. What happened on Sunday, however, was a massive dream come true for the young Swiss driver. In only his 5th Porsche Carrera Cup race he found himself on the podium, finishing in 3rd place. The foundation of this fantastic result was 5th place in qualifying. From there he was on the attack, and gained 2 places during the race. "It's absolutely crazy to have landed in 3rd place here at the Lausitzring in my fifth race. I was the only one in the first seven driving with old tyres, which made driving really difficult. Norbert Siedler, who was behind me, gave me a hard fight but I just did what my mentor Sean Edwards and our engineer Kosta have given me along the way. The car was just perfect and Project 1 have done an amazing job. A huge thank you to the team, it was just huge." said the delighted Swiss driver, driving for 'Team Deutsche Post by Project 1'. On the rookie leader board, Jeffrey Schmidt has gained 20 valuable points and moves to 3rd place, just 8 points behind the leader, American Connor de Phillippi.
Unfortunately, Sean Johnston didn't have quite such a successful weekend. In the first race he finished in 18th place and in the second race the Project 1 junior driver sadly had to retire, although his hopes had been high after qualifying in 7th position: "The first race was really interesting for me and I fought hard. Unfortunately, I spun on oil and could only manage 18th place. In the second race I hoped for a lot more. I wanted to turn my seventh place in qualifying into a top result in the race, but unfortunately a broken radiator meant I had to finish the race early.
I'm really pleased for Jeffrey, Sean and the team, though, they've all had great results. At the Norisring I'll be on the attack again."
Team boss Paul Schlotmann is above all proud of the overall performance of the team and the path which Project 1 is on. "I'm pleased that, after the disappointment in Spielberg, we've been able to come back with a result like this. Jeffrey in particular deserves special praise. To defend himself against someone as experienced as Norbert Siedler and not to make a mistake is amazing. It shows us that Project 1 in on the right path. Sean Edwards together with Kosta is the perfect mentoring team for our two juniors. Today, the outcome of our work was third place for Jeffrey, and I'm sure that there will be many more results like that in the future."
The Norisring in Nürnberg is seen as the Monaco of the DTM. The Porsche Carrera Cup teams and drivers will be battling for championship points there on 13th and 14th July. 'Team Deutsche Post by Project 1' will be on the attack again and looking to continue the improving trend.
The race can be viewed via an internet live stream on the official Porsche website.
News and background information about the race and about Project 1 can be found on the website and on Facebook.
Racing calendar – Porsche Carrera Cup Germany:
Norisring 14.07.2013
Nürburgring 18.08.2013
Oschersleben 15.09.2013
Zandvoort 29.09.2013
Hockenheim II 20.10.2013
This entry was posted on Monday, June 17th, 2013 at 1:28 PM and is filed under
All
,
Porsche Cup
. You can follow any responses to this entry through the
RSS 2.0
feed. You can skip to the end and leave a response. Pinging is currently not allowed.