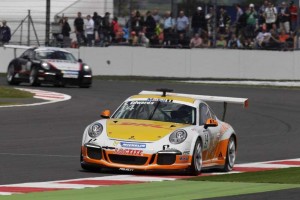 If you comprehensively win the first two races of the season, it's understandable that you want to achieve a hat trick of three wins in a row, and if at the same time you have the chance to achieve that in your home country, then you are especially motivated. But for the team 'Allyouneed by Project 1' and championship favorite Sean Edwards, things turned out rather differently.
After the perfect start to the season, with the opening race victory in Barcelona and the comprehensive victory from pole position in Monaco, in Silverstone there was a fourth place. Ultimately, however, although just missing a podium place, the race was not too much of a disappointment, as Edwards gained important championship points in a still long season. After gaining third position in qualifying, attacking was the order of the day for Edwards, but unfortunately he had to wave goodbye to the plan right from the start. "Unfortunately, the clutch stuck as we started and I lost a position rather than attacking." said Edwards, whose race after that was rather about damage limitation: "Despite the poor start, the race was ok, even though I wasn't happy with the performance of the car. Starting in third position, we obviously wanted to push forward, but we didn`t have the pace today that we have had in the previous races, and we need to find the reason for that." said Edwards, who is also able to take some positives from his home race: "The atmosphere with all the fans and the crowds here at Silverstone is just great and I'd have loved to give the many fans in England a British victory, but there wasn't anything more I could do today. We'll find the problem quickly and we'll be back in the next race" said Edwards, after the race on his home soil. With 14 points, Edwards holds on to the championship lead and now leads with a gap of 4 points over German driver, Michael Ammermüller.     
Team 'Allyouneed by Project 1' rookie, Sean Johnston, has returned after two years to the track where his career in motorsport began in such prominent style. Through a well-known console game, an American TV challenge offered the winner a professional career in motorsport. In the final, which naturally took place at the home of motorsport, Silverstone, it was a case of "every man for himself, only one can win". Although Johnston only finished second, since that time he has not let anything stand in the way of his dream of becoming a professional racing driver. 
Johnston would of course have gladly signed up for another second place finish, but all good things come to those who wait and the 22 year old American's plan was very much about gaining experience. Starting in P20, Johnston was able to finish in 18th place and is satisfied with the result: "The race was tough and I gained a lot of experience today. On the second lap I lost four places and then tried to limit the damage. It's huge to drive here at Silverstone in front of all the motorsport fans. All in all, I'm happy with the race and the weekend".  
The result of Team 'Allyouneed by Project 1' rookie and guest driver Jeffrey Schmidt was visibly unusable. For the young Swiss driver, who was driving the new Porsche 911 GT3 Cup Type 991 in the Porsche Mobil 1 Supercup for the first time, there was also a great deal to learn after his brilliant third place in the Porsche Carrera Cup in Lausitz: "First of all, I'd like to say a big thank you to everyone who made it possible for me to take part in my first Supercup race. The first time in a 991 is something really special and Porsche have developed a great racing car. After the tests last week, I had a good feeling about the new car, but it takes a lot of time to get used to it. Unfortunately, I had a collision at the end of the race and couldn`t finish my first race but even so it was an instructive and a good weekend here in England."
For the team from Lohne it's now a case of packing everything together and travelling home to prepare for the forthcoming race at the Nürburgring. The Formula 1 circus, including the Porsche supporting programme, is travelling without a break to the German Grand Prix, which will take place on 7th July. At home, Project 1 will be gathering all its strength together and will be showing everyone which is the team to beat in the championship. Paul Schlotmann considers himself and his team to be well on track: "It obviously wasn't a perfect weekend for us but we can travel back home satisfied. Three wins in a row would have been great, but you can't win every race. We now need to analyse the mistakes. I'm certain that we'll be right back at the front at the Nürburgring next weekend." 
Project 1 is again planning to have three cars on the starting grid at the Nürburgring. The free practice session will take place on Friday at 4.45pm.
News and background information about the race and about Project 1 can be found on the Project 1 website and on Facebook, or on the partner website, racecam.de.
Racing calendar – Porsche Mobil 1 Supercup:
Nürburgring 07.07.2013
Budapest 28.07.2013
Spa-Francorchamps 25.08.2013
Monza 08.09.2013
Abu Dhabi 03.11.2013
This entry was posted on Tuesday, July 2nd, 2013 at 1:35 PM and is filed under
All
,
Porsche Cup
. You can follow any responses to this entry through the
RSS 2.0
feed. You can skip to the end and leave a response. Pinging is currently not allowed.