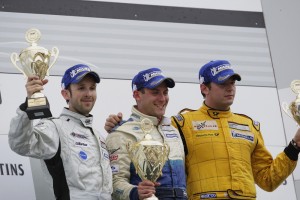 After a qualifying with ups and downs, 'Team Deutsche Post by tolimit' drivers Sean Edwards and Jeroen Bleekemolen achieved 3rd and 4th place at the Porsche Carrera Cup Deutschland season starter in Hockenheim. With regard to the mixed weather conditions, the team kept its nerves in the tyre choice and stayed on slicks, while many competitors calculated with rain showers.
Obviously, 'Team Deutsche Post by tolimit' had calculated that it would face some setup issues at the first race of the season. However, that the party into May Day would become "working into May Day" was not to be foreseen. Due to some technical issues with the new Porsche 911 GT3 Cup cars, e. g. the team made three engine changes at Sean Edward's car alone. In free practice and qualifying, both the Brit as well as his team mate Jeroen Bleekemolen experienced some errors in the engine control unit. However, together with Porsche, the team was able to solve all issues throughout the weekend.
Sean Edwards comments: "In qualifying, my engine lost water in my third fast lap. The lap was good enough for a top 10 position, however, due to the water hose coming off, I span and ended on position 14. The race was absolutely crazy. We waited until the last minute with our tyre choice and decided to go out on slicks, which was the right decision. Starting so far from the back, I was battling with the guys on the wets at first and lost quite some time. But later on I was able to catch up. To come from 14 and end on position 3 is just amazing. Thanks to the whole team for the great work."
Jeroen Bleekemolen adds: "We faced some issues with the engine control unit in qualifying which resulted in position 7 on the grid. We made the right decision concerning the tyres for the race. Position 4 is ok taking into consideration the issues we had throughout the weekend."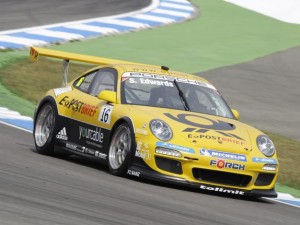 tolimit head of motorsport Michael Seifert: "This was definitely not a party into May Day, but a lot of work at night. Our team did everything to have the cars ready and perfectly prepared for the race. And it worked out. Thanks for all the hard work, especially on Saturday night. Positions 3 and 4 are a great basis for our target to win the championship. With 30 points, we are currently on top of the team standings."
Porsche Carrera Cup team manager Paul Schlotmann: "To find the right setup on both cars has been more intensive than expected on this weekend. However, now we should have sorted it all out and be well prepared for the next race."
tolimit managing director Hans-Bernd Kamps: "This was the first step on our way to the top. Once again, we showed that we can deal with difficulties and are going our way despite of them. Thanks to our partners from Deutschen Post and Windreich, that kept their fingers crossed throughout the whole weekend. And thanks also to our friends and business partners on site for their support."
The next Porsche Carrera Cup Deutschland race takes place on May 15 at the Circuit Park Zandvoort, in the Netherlands.
The race dates:
May 15, 2011 DTM Circuit Park Zandvoort, The Netherlands
June 5, 2011 DTM Red-Bull-Ring Spielberg, Austria
June 19, 2011 DTM EuroSpeedway Lausitz, Germany
June 25, 2011 Carrera World Cup 24h Nürburgring, Germany
July 3, 2011 DTM Norisring, Germany
August 7, 2011 DTM Nürburgring, Germany
September 18, 2011 DTM Oschersleben, Germany
October 23, 2011 DTM Hockenheimring Baden-Württemberg, Germany
This entry was posted on Thursday, May 5th, 2011 at 4:51 PM and is filed under
All
,
Porsche Cup
. You can follow any responses to this entry through the
RSS 2.0
feed. You can skip to the end and leave a response. Pinging is currently not allowed.