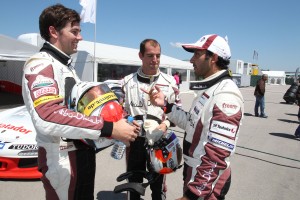 'Team Abu Dhabi by tolimit' drivers Sean Edwards, Jeroen Bleekemolen and Khaled Al Qubaisi achieved a solid performance with the positions 4, 6 and 17 respectively, at the Porsche Mobil 1 Supercup season opener at the Istanbul Park Circuit in Turkey.
Having started the race from positions 4 and 5 respectively, Dutch Bleekemolen and Brit Edwards both had a decent start, but got passed by current champion René Rast, who came off even better and wheeled himself past them. Other than expected due to his great previous performances and due to ongoing technical issues with his brake system, Emirati driver Khaled Al Qubaisi didn't have a very good start and fell back to position 18. In the course of the race, however, he was able to catch up one position to finish on position 17. His race was dominated by an ongoing duel with Turkish guest starter Yadel Oskan and blocking tyres – an issue that will need to be investigated back in the workshop.
The most important scene for 'Team Abu Dhabi by tolimit' drivers Edwards and Bleekemolen happened in lap 11, when Rast was making a quite severe driving error. Edwards benefited the most out of the situation and passed both Rast and Bleekemolen on the right side to finish on position 4, while his Dutch team mate found himself blocked by Rast slamming the brakes and hardly managed to avoid him. As a result, he lost his chance for the podium and finished on position 6. With 24 points for the team standings, the Lohne-based crew achieved a solid performance at the season opener and created a good basis for the fight for the championship.
Sean Edwards: "It was a difficult race. Rast got a good start and passed me in the first corner. The car was ok, but we couldn't completely keep pace with the cars in front. In lap 11, Rast made a mistake and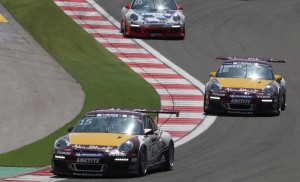 I passed him on the right hand side. Jeroen obviously was hardly able to avoid him, so I found myself on position 4 in the end. It's a decent team result for us and I am looking forward to the next race in Barcelona."
Jeroen Bleekemolen: "It was a quite disappointing race for me. I had a good car, definitely one that could have achieved 3rd place. Rast had a good start, but made some mistakes in the race and just when I wanted to pass, he slammed the brakes and blocked me, which was somehow unfair. I was hardly able to avoid him and finally lost two positions where I could have made it to the podium."
Khaled Al Qubaisi: "The balance of the car was ok, but unfortunately, I was having problems with the brakes and locking tyres throughout the whole weekend. We will now need to take out the brake system back in the workshop and find out what the problem is. At the end, I even had to go slow and fight hard to only keep my position. Nevertheless, it's great to be back at in the top series of the one-make-cups. Together with our team manager Michael Seifert, I will now be flying to Germany in order to get prepared for this year's highlight event at the famous Nürburgring Nordschleife. I look forward to it and to the next race in Barcelona."
tolimit head of motorsport and Supercup team manager Michael Seifert: "With regards to the team result, the weekend was ok for us. Nevertheless, it could have gone better for our drivers, especially for Jeroen who stayed very fair throughout his duel with Rast, only to be blocked by him later on. This is a proof that the competition is fierce in Supercup, but we will stay focused on our overall target. However, we are looking forward to the next Supercup race in Barcelona. The race here in Istanbul showed that we have the pace to fight for the title. So we are confident to catch our first race win soon."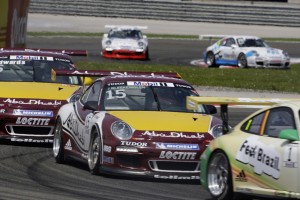 tolimit managing director Hans-Bernd Kamps: "A decent start into the season for our 'Team Abu Dhabi by tolimit' and a performance that we can work on. As always thanks to our partners Abu Dhabi Tourism Authority, Deutsche Post, Windreich, DHL, aabar and SR Technics for their support. We will continue working on our performance and I am convinced that they will see their brands on top of the podium quite soon."
Eurosport will show a summary of the race on Tuesday at midnight in the 'Race RX' show. The next round of the Porsche Mobil 1 Supercup will take place on May 22 in Barcelona, Spain.
The race dates:
May 22, Barcelona, Spain
May 29, Monte Carlo, Monaco
June 25, Nürburgring-Nordschleife, Germany
July 10, Silverstone, Great Britain
July 24, Nürburgring, Germany
July 31, Budapest, Hungary
August 28, Spa-Francorchamps, Belgium
September 11, Monza, Italy
This entry was posted on Monday, May 9th, 2011 at 6:03 PM and is filed under
All
,
Porsche Cup
. You can follow any responses to this entry through the
RSS 2.0
feed. You can skip to the end and leave a response. Pinging is currently not allowed.