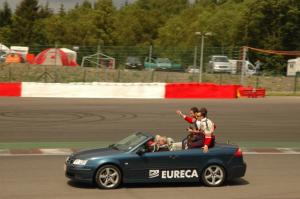 Saturday saw an early start for the warm up at 9.45, and after the Tech 9 mechanics stayed up all night to fix the blown head gasket on the #99 Porsche, it would be the only chance they would get to test the car before the start of the 24 hours of Spa.
Their hard work had paid off: Sascha Maassen finished the session without any problems and it looked like they were all set for the start of the big race, all be it already very tired.
Four o'clock approached and the usual build up to the event was well under way, with the driver's parade round the track. Sean Edwards, Phil Hindley and Sascha Maassen had come to the decision that it would be best to use Sascha's experience of 24 hour races to start it from the back, due to the a penalty for changing the head gasket, and work his way through the slower GT3's, before handing over to Sean for the second stint and Leo Machitski for the third.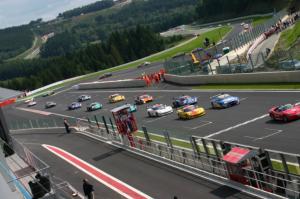 The start neared and there was nothing more the team could do but watch as the race got under way. The car started in 46th and last place respectively, but Sascha quickly moved up through the field and one hour into the race he was up to 19th overall and right on the back of the GT2 field. After about one hour and twenty minutes he came in to hand over to Sean and was in 9th place in GT2.
The car was running well and Sean quickly picked up where Sascha had left off, making his way through more of the GT2 field to5th place and in the process setting the #99 machines best lap of 2.25.560. He briefly lead the GT2 field, as some of the leaders had already done their second stop. After a consistent stint he came in to hand over the car to Leo and said: "The car is running really well at the moment, we have a strategy to keep a consistent, comfortable pace with no risks and see where we are at the end. Our main goal is to finish, but it would be great to get a podium, as we really deserve it."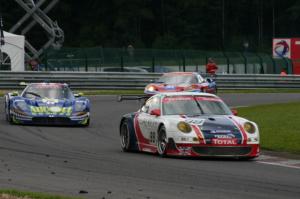 Leo's stint went without a hitch and he put in a great performance, only being one second off Sascha's pace and two seconds off Sean's pace, which is the closest he has been all year. "I am really impressed with Leo's pace at the moment" Sean said "He is really going well and he is doing a really great job, but there is still a long way to go in this race." "Leo is obviously revelling in the amount of time he is getting in the car, as he is getting closer and closer to Sean's pace, which is great to see" Said team boss Phil Hindley.
After Leo's superb stint, it was Sascha's turn to do a double (around two hours forty minutes to three hours). In his first fuel stop, the team noticed the car was using a lot of oil from the data, which was not a good sign with the engine troubles they had earlier. But luckily it was only a faulty cap on the endurance oil tank that had broken, spilling oil everywhere, which they had to clean up in the next pit stop (loosing them around four minutes) and re fill the oil tank.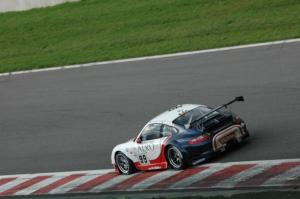 Sascha had done a great job and it was Sean's turn to do a double stint as Sascha came in at around 11pm to hand over. Obviously by this time it was night and it was Sean's first lap in anger at night. "It was really weird, it's hard to see through the corners and the GT1 lights are really blinding when they come up behind you, it's impossible to judge the distance when they start flashing you" commented Sean. After a consistent first stint, he came in for fuel and new tyres, by this time he was used to driving at night and immediately went out and set a blisteringly fast pace on the new tyres and another fastest lap for the #99 car of 2.24.498. They had now made it up to 4th place in GT2. Sean continued his second night stint at a very fast and consistent pace and he had stayed out of trouble in preparation to hand back over to Leo at around 2am. He then got some well earned rest, well all that he could, before he had to get in for another double stint at 6am. "Karen woke me up (women in charge of everything to do with the drivers) and I was still very tired, as I could only manage one and a half hours sleep during the night."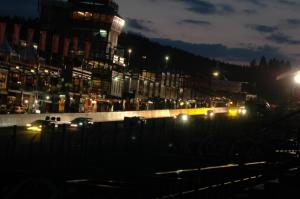 It was Leo's turn to drive in the night now and he went pretty well, with a consistent stint in the car. "It was quite fun driving at night, but a word to all those GT1 drivers, when you flash us from a long way back, it just makes things worse, as we don't know how far you are behind, so it will just take longer for us to let you past… And some of the GT3 cars have a stupid amount of lighting as well, they look like GT1 cars!"
Sascha was out next for another double stint and again kept out of trouble and kept a fast and consistent pace. "We are going well at the moment, we have had no problems with the car really and it all looks good. We just have to keep this pace up and keep out of the pits to be in the frame for a podium."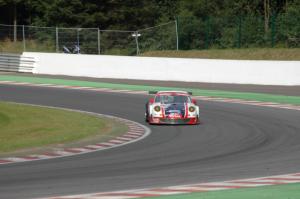 He came in from his double stint and handed back over to Sean, just as the rain started to fall. "It started to get tricky then, as it was wet and dry around the track, so tyres were very hard to choose between, but I stayed out on slicks for as long as I could, until it really started raining." The team put Sean on Intermediates and sent him on his way, with the car handling so well; they were one of the fastest out on track. A big crash brought out the safety car and the #99 took the opportunity to come in for full wets and a splash of fuel. They were up to fourth place now and so close to the podium they could almost smell it. Luck struck when the second place AF Corse car had a big crash at the top of Eau Rouge and that promoted them to third place in GT2 and tenth place overall and brought out another safety car.
It was raining hard now and Sean was still out there, nearing the three hour maximum driving time for one driver, he was called in to hand back over to Sascha, who went out on dry wets. By this point Sean was pretty tired, retreating to the Porsche truck for a massage, only to be interrupted half way through, because he was needed to go back out on track already! Unfortunately for him, Leo was not feeling too well and Sascha only wanted to do one stint on the dry wets, so Sean had to rush back into his suit and get back in the car in record time. "It was literally a split decision for me to go back in and I had three minutes to organise my self. I was still putting my helmet on when he stopped in the pit box, it was a mad rush!"
He was back on full wets, with the rain coming down so hard, that the safety car was called out because cars were aquaplaning off everywhere. Sean spent almost an hour behind it, before getting going once again. He nearly did another three hours in the car before handing back to Sascha and at this point it was already about 1pm, with only three hours to go, everyone was starting to get paranoid, nothing had gone wrong with the car yet and they had a comfortable lead over the Ebimotors Porsche in fourth, surely nothing could go wrong now?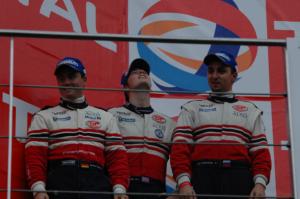 Sascha came in and handed back over to Leo for the final stint of the race and he worryingly said there was a low water pressure alarm, but it was nothing to be too alarmed about and he was told to cruise home, which he did. The car came across the line to the roar of the team, who had been up for god knows how many hours and they had secured third place in their first ever 24 hour race, a race which is hard to finish, let alone on the podium!
"Finally we have got our podium, we have waited long enough for it and what a race to get it at! I am so happy right now, but it's kind of an anticlimax after driving for 24 hours and then to be doing nothing, no noise, no adrenalin and nothing to think about anymore. The whole team did an amazing job and I just want to thank every single person for all they have done" said Sean.
"It was a great experience for my first 24 hours and the whole team did such a great job and Sean did an amazing job, driving almost twelve hours on his own!" Leo said.
Phil Hindley said after the race "The whole team pulled together and got a podium, in our first 24 hour race it's a massive achievement and all the drivers performed perfectly."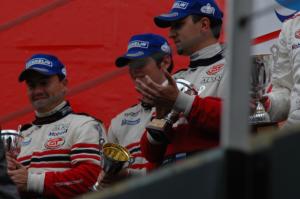 "The team and my co drivers did a great job and I am really happy to be on the podium here in GT2. We had no problems with the Porsche and it shows how much this car has come on in one year, with all the problems we had last year with the development car!" said Sascha.
So, to conclude Tech 9's and its two regular driver's first 24 hour race, it was an outstanding success. They kept to their strategy of a comfortable pace and keeping it out of trouble and they ended up with a podium. To finish first, first you have got to finish and that was very true of this race, especially for the championship leading AF Corse cars, who both crashed out due to driving errors and now throws the championship wide open!
Adria is next and back to the normal two hour format, but this time on Saturday night and the team will be carrying the momentum from Spa through to this race and will be looking for another podium, maybe even one step higher this time?