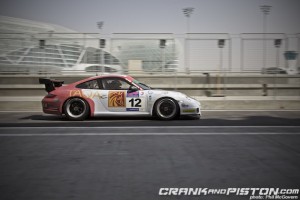 Sean was out in Abu Dhabi coaching the drivers from Alex Renner Motors when he was called in at the last minute to race alongside Khaled. He was happy to oblige and his first laps of the circuit were in qualifying, sticking the car in 3rd place on the grid behind the Porsche 997 Cup S of Rene Rast and the Covette GT3 of Karim Al Azhari!
Khaled took the start of the race and the power of the following Dodge Viper meant he lost a place, but settled into a nice rhythm in 4th place. A late call on the safety car created a panic in the pits, as everyone came in at once, with Khaled handing over to Sean. He came right out behind the 3rd place Viper, but the leading Cup S and second place Corvette were behind, it seemed as though the safety car had made a mistake and the first two cars had managed to lap the whole field in the confusion.
On the restart Sean immediately overtook the Viper for 3rd place and pulled away, but Rast was in chase and unbeknown to Sean, he was actually being lapped, not fighting for the lead of the race. Either way, he put up little defence to the much superior Cup S and settled in behind for the remainder of the race. The duo took a well deserved 3rd place in the end, although 2nd on the road ahead of the Corvette.
"It's a great track, the two cars ahead were much faster compared to our standard cup car, so we did the best we could and were happy with a podium. The team did a good job and Khaled too." Sean said shortly after the race.
Khaled commented "I am very happy with the result today, it moves me up in the championship and it was great to drive along side Sean, I will be having him back for a few more rounds this year!"
The next round of the championship is at Dubai on the 18 and 19th of March, where it looks like Khaled and Sean will once again be teammates.