Sean Edwards experienced a weekend with ups and downs. Having been blocked in his last fast lap in qualifying, he started the race from position 6. His race was dominated by many duels with his competitors fighting for the remaining podium positions. In the end, he finished 5th and now ranks 3rd in the driver standings.
Jeroen Bleekemolen: "This was simply a perfect weekend. Many thanks to the team that managed to prepare a great car despite of the technical issues we had on Friday. I could have gone even faster at the end of the race, however, one of the other cars lost cooling water, so I decided to play safe. I dedicate the victory to our engineer Kosta, as today is his birthday. Happy birthday Kosta."
Sean Edwards: "A very difficult race. It was so hard to overtake here. At the start Armindo held up the field. Although I got passed by Tandy, who was driving really aggressively, in the end I got passed Armindo and Van Lagen and finished 5th. That's good points, not a disaster, the car was good. Next time, we need to make sure to get a good and clear lap in qualifying to achieve better results."
Porsche Carrera Cup team manager Paul Schlotmann: "Our hard work during the weekend has paid off. The victory is our reward. Having this performance in mind, we are already looking forward to the next round in Spielberg."
tolimit head of motorsport Michael Seifert: "A great performance for the whole team and the maximum outcome for Jeroen. Sean was a bit unlucky in qualifying otherwise a fully yellow first row would have been possible this weekend. But that's racing. We are very proud on the result and take the momentum into the next races. Congratulations to Kosta not only for the result, but also for his birthday."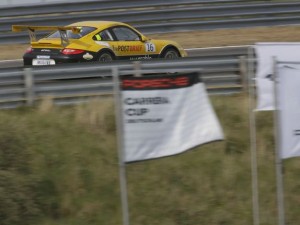 tolimit managing director Hans-Bernd Kamps: "I could have worked as a clairvoyant this weekend. As planned and expected, Jeroen dominated the race and won it with a superior performance. Sean didn't have the same great race, but also showed a good performance. It's great to have a local hero winning the race in front of his home crowd."
The next Porsche Carrera Cup Deutschland race will take place on June 5 at the Red-Bull-Ring in Spielberg, Austria.
The race dates:
June 5, 2011 DTM Red-Bull-Ring Spielberg, Austria
June 19, 2011 DTM EuroSpeedway Lausitz, Germany
June 25, 2011 Carrera World Cup 24h Nürburgring, Germany
July 3, 2011 DTM Norisring, Germany
August 7, 2011 DTM Nürburgring, Germany
September 18, 2011 DTM Oschersleben, Germany
October 23, 2011 DTM Hockenheimring Baden-Württemberg, Germany
2008 – Porsche Mobil1 Supercup
| | | | |
| --- | --- | --- | --- |
| Round | Date | Circuit | Meeting |
| | | | |
| Hockenheim Test Day 1 AM | 04/03/2008 | Hockenheim | Porsche Official Test |
| Hockenheim Test Day 1 PM | 04/03/2008 | Hockenheim | Porsche Official Test |
| | 05/03/2008 | Hockenheim | Porsche Official Test |
| | 05/03/2008 | Hockenheim | Porsche Official test |
| | | | |
| | 04-06/04/2008 | Bahrain | FIA Formula One World Championship |
| | 04-06/04/2008 | Bahrain | FIA Formula One World Championship |
| | 25-27/04/2008 | Barcelona | FIA Formula One World Championship |
| | 09-11/05/2008 | Istanbul | FIA Formula One World Championship |
| | 23-25/05/2008 | Monaco | FIA Formula One World Championship |
| | 20-22/06/2008 | Magny Cours | FIA Formula One World Championship |
| | 04-06/07/2008 | Silverstone | FIA Formula One World Championship |
| | 18-20/07/2008 | Hockenheim | FIA Formula One World Championship |
| | 01-03/08/2008 | Budapest | FIA Formula One World Championship |
| | 22-24/08/2008 | Valencia | FIA Formula One World Championship |
| | 05-07/09/2008 | Spa Francorchamps | FIA Formula One World Championship |
| 12 – Result | 12-14/09/2008 | Monza | FIA Formula One World Championship |
| | | | |
2008 – Langstrecken Meisterschaft Nurburgring

| | | | |
| --- | --- | --- | --- |
| Race | Date | Circuit | Meeting |
| | | | |
| 4 hours | 11-12/04/2008 | Nurburgring Nordschleife VLN | VLN |
| | | | |
| | | | |
2008 – FIA GT1 European Championship
| | | | |
| --- | --- | --- | --- |
| Round | Date | Circuit | Meeting |
| | | | |
| | 13/03/2008 | Monza | FIA GT |
| | 14/03/2008 | Monza | FIA GT |
| | | | |
| | 19-20/04/2008 | Silverstone | FIA GT |
| | 17-18/05/2008 | Monza | FIA GT |
| | | | |
| | | | |
2007 – FIA GT2 European Championship

| | | | |
| --- | --- | --- | --- |
| Round | Date | Circuit | Meeting |
| | | | |
| | 22-23/02.2007 | Monza | FIA GT |
| Nogaro Test – Result | 6-7/03/2007 | Nogaro | FIA GT |
| | 02/07/2007 | Spa | FIA GT |
| | | | |
| | 25/03/2007 | Zhuhai | FIA GT |
| | 06/05/2007 | Silverstone | FIA GT |
| | 20/05/2007 | Bucharest | FIA GT |
| | 24/06/2007 | Monza | FIA GT |
| | 08/07/2007 | Oschersleben | FIA GT |
| | 29/07/2007 | Spa Francorchamps | FIA GT |
| | 08/09/2007 | Adria | FIA GT |
| | 23/09/2007 | Brno | FIA GT |
| Did not compete | 30/09/2007 | Nogaro | FIA GT |
| Did not compete | 21/10/2007 | Zolder | FIA GT |
| | | | |
| Championships | | 11th | |
| | | 6th | |
| | | 2nd | |
| | | | |
2007 – Apex Tubulars Porsche Open
| | | | |
| --- | --- | --- | --- |
| Round | Date | Circuit | Meeting |
| | | | |
| | 22/04/2007 | Snetterton | Porsche Open |
| | | | |
2006 – FIA GT3 European Championship
| | | | |
| --- | --- | --- | --- |
| Round | Date | Circuit | Meeting |
| | | | |
| | 06/05/2006 | Silverstone GP | FIA GT |
| | 07/05/2006 | Silverstone GP | FIA GT |
| | 01/07/2006 | Oschersleben | FIA GT |
| | 02/07/2006 | Oschersleben | FIA GT |
| | 28/07/2006 | Spa Francornchamps | FIA GT |
| | 29/07/2006 | Spa Francornchamps | FIA GT |
| | 02/09/2006 | Dijon Prenois | FIA GT |
| | 03/09/2006 | Dijon Prenois | FIA GT |
| | 16/09/2006 | Mugello | FIA GT |
| | 17/09/2006 | Mugello | FIA GT |
| | | | |
| Championships | | 1st | |
| | | 1st | |
| | | 1st | |
| | | | |
2005 – British GT Championship / Tag Heur 250
| | | | |
| --- | --- | --- | --- |
| Round | Date | Circuit | Meeting |
| | | | |
| | 14/08/2005 | Silverstone GP | British F3/GT |
| | | Brands Hatch GP | Tag Heur 250 |
| | 09/10/2005 | Silverstone Int | British F3/GT |
| | 09/10/2005 | Silverstone Int | British F3/GT |
| | | | |
2004 – Formula Renault Uk Championship

| | | | |
| --- | --- | --- | --- |
| Round | Date | Circuit | Meeting |
| | | | |
| | 11/04/04 | Thruxton | Toca |
| | 11/04/04 | Thruxton | Toca |
| | 25/04/04 | Brands Hatch Indy | Toca |
| | 25/04/04 | Brands Hatch Indy | Toca |
| | 9/05/04 | Silverstone International | Toca |
| | 9/05/04 | Silverstone International | Toca |
| | 22/05/04 | Oulten Park | Toca |
| | 22/05/04 | Oulten Park | Toca |
| 9 – Result | 25/06/04 | Thruxton | Renault Festival |
| 10 – Result | 25/06/04 | Thruxton | Renault Festival |
| | | Croft | Toca |
| | | Croft | Toca |
| | | Knockhill | Toca |
| | | Knockhill | Toca |
| | | Brands Hatch Indy | Toca |
| | | Brands Hatch Indy | Toca |
| | | Snetterton | Toca |
| | | Snetterton | Toca |
| | | Donnington Park | Toca |
| | | Donnington Park | Toca |
| | | | |
| Championships | Graduates – Result | 5th | |
| | | | |
2003 – BRDC Formula Ford Single Seater Championship
| | | | |
| --- | --- | --- | --- |
| Round | Date | Circuit | Meeting |
| | | | |
| Result = 3rd | | Silverstone Stowe | BRSCC |
| Result = 1st | | Silverstone Stowe | BRSCC |
| Result = 1st | | Silverstone Stowe | BRSCC |
| Result = 1st | | Silverstone Stowe | BRSCC |
| | | | |
| 1 – Result = 6th | | Silverstone National | BRSCC |
| 2 – Result = 5th | | Silverstone National | BRSCC |
| 3 – Result = 3rd | | Donnington Park | British F3/GT |
| 4 – Result = 4th | | Donnington Park | British F3/GT |
| | | | |
| Result = 4th | | Silverstone International | BRSCC |
| | | | |
| 5 – Result = 4th | | Snetterton | British F3/GT |
| 6 – Result = 5th | | Snetterton | British F3/GT |
| 7 – Result = 1st | | Croft | British F3/GT |
| 8 – Result = 3nd | | Silverstone GP | British F3/GT |
| 9 – Result = 2nd | | Oulton Park | British F3/GT |
| 10 – Result = 4th | | Rockingham | British F3/GT |
| 11 – Result = DNF | | Rockingham | British F3/GT |
| 12 – Result = DNF | | Brands Hatch GP | British F3/GT |
| | | | |
| Championship Position | 4th | | |
| | | | |