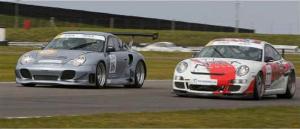 Sean Edwards raced at Snetterton in a Porsche 997 cup car, bringing back memories of his FIA GT3 championship of 2006. He was there helping out Jim Geddie (who he instructs) for the 2nd race of the weekend which was 1 hour long.
Jim Geddie did very well, qualifying 4th for the first race and doing very well against the faster cars finishing 3rd eventually. This put Sean in perfect position, for starting the Sunday race. "We are up against some Porsche's that are a lot faster than ours, like the 700 odd BHP Porsche Bi Turbo GT2 car of Rupert Luwlin, so it's going to be hard to win on Sunday, but I am quietly confident." said Sean.
Sean was starting the race and was going to do the maximum of 40 minutes allowed in the race. "I have not done a standing start since my Formula Renault days. Luckily I know Carrer cup champion Phil Quaifee well and asked him how to get the best start out of the 997 cup car!"
Sean made a great start, unfortunately the 2 cars ahead blocked the track and he had to lift off, subsequently dropping back to 5th position into turn 1. He soon sorted that out, getting up to P2 by Turn 2, but Lewlin had already opened a 2 second gap. Sean soon caught up to him by the end of lap 1 and was all over him. "I could catch him up massively into all the corners, but down the straight I had no chance. We are topping 151mph, compared to his 175mph!"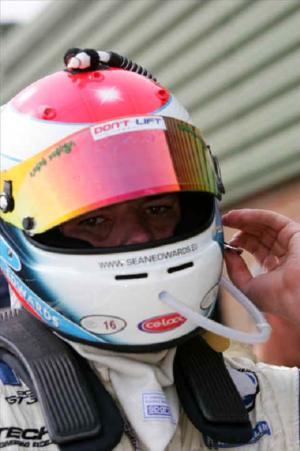 Sean was all over him, but could not find a way past, as he could only get close to him around Corum and into the Russel chicane, before the twin turbos kicked in and Lewlin pulled away again. "He was pulling about 3 seconds down the back straight on us, so I had to catch all that back up before trying an overtake near the end of the lap" said Sean.
Eventually, on lap 9, with a little tap round Corum, Sean managed to get past! "He was blocking me everywhere and was cutting me up whenever I got my nose down the inside, making me back off! I got along side him into Corum, and he turned in again, but this time I had enough and did not back off, tapping him sideways and snatching 1st place.
From that point on, Sean pushed very hard and managed to pull out a 25 second lead, which became over a lap when Lewin pitted early.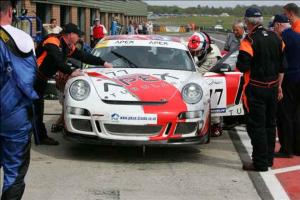 He then pitted him self, handing the car over to it's owner Jim Geddie, who did a superb job in keeping the gap to Lewlin under tremendous pressure! He brought the car home for the win, with a 19 second lead.
"I am really pleased, Sean did a fantastic job! It is my first win in the Porsche Open and I am really pleased to beat Lewlin in the Bi Turbo, as the car is so much faster than ours!" Said Geddie.
"I am very happy to help Jim win his first Porsche Open race, it was a real team effort. The guys did a really quick pit stop and we both drove well and produced the goods. I hope to continue this when I race with Jim again later this year." Said Sean
Sean Edwards (left), Jim Geddie (right) and the team celebrate their win the Apex Tubulars Porsche Open.