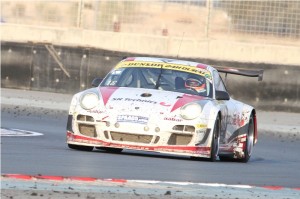 In one of the toughest competitions in the history of the race, team 'tolimit arabia' achieved an amazing fourth place and only hardly missed the podium of the 24 hour race in Dubai. Due to a technical problem that required a change of the drive shaft, the team lost 27 minutes during the night. Having fallen back on position 11 therefore, the team fought back to position 4 in an exciting catch-up race and finished as the best Porsche team.
Khaled Al Qubaisi, the team's local hero and first sports car driver with Abu Dhabi origins, is satisfied with the result: "Being the first 24 hour race that 'tolimit arabia' competed in, it was only for a technical problem that we didn't win the race. It was a very good result for us as a team. We showed that we are a winning squad."
Sascha Maassen, former Porsche works driver and experienced endurance racer comments: "Looking back on the race, I have a laughing and a crying eye. In terms of performance, we could have won. With our only technical problem, we lost 13 laps, however, finished as the best of the Porsche teams. Nevertheless, taking in mind that this was our first 24 hour race together as a team, it is a great result."
Sean Edwards, British Porsche specialist and guarantee for constantly quick lap times adds: "It was a great combat and the issue we had was out of our hands. The team changed the drive shaft in less than half an hour which is an astonishing achievement. So fourth place is the best result we could have hoped for due to this technical problem. I would like to thank the whole team and my co-drivers for the great work and the great experience.
Jeroen Bleekemolen, latest acquisition of the team and former Porsche Mobil 1 Supercup winner with comprehensive endurance experience says: "Unfortunately, we faced the problem with the drive shaft. Otherwise, we would have won the race. The team was well prepared and the pace was there, so we were a bit unlucky. But for our first 24 hour race in this team and driver combination it was a very good result. Although I obviously would have preferred to win."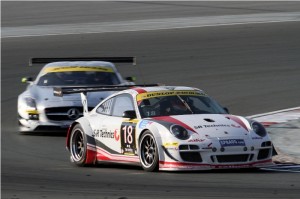 Team Manager Michael Seifert is satisfied: "It was a great race with a great team effort. 18 pit stops and a change of the drive shaft in less than half an hour: I can't thank the team enough for the great performance. Staying concentrated for 24 hours is always tough, but today we showed that we can be a winning combination."
Tolimit managing director Hans-Bernd Kamps adds:"What a great competition. With almost 90 cars on the grid, works squads from Mercedes and top drivers such as former DTM champions and works drivers, we finished as the best Porsche teams and were only slowed down due to a technical issue. Thanks to our partners from SR Technics, aabar and Cable Tech for their support. We are sure we delivered an exciting race once around the clock."
A 52' highlight program of the Dubai 24 hours will be shown in more than 150 countries on channels such as Motors TV, ESPN Asia, ESPN Latin America, Fox Sports America, Fox Sports Latin America, Fox Sports Australia, Fox Sports Middle East, SuperSport Africa, Sky Sports (GER/AUT), Motorvision TV (GER), Sky Sports (GBR), Channel 5 (GBR), Teleclub (SUI), Ma Chaine Sport (FRA), TVE Teledeporte (SPA), Sport TV (POR), Novasports (GRE), Sport TV (SLO), Nova Sport (CZE), Sport 5 (CZE), Mix TV (BRA) and Abu Dhabi Sports Channel (Middle East).