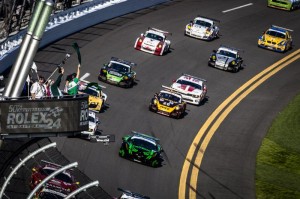 MOMO made a successful comeback at Daytona this weekend. The MOMO NGT Motorsport team had a great driver line-up with Porsche Super Cup and Porsche GT3 Cup Champions and Vice Champions Henrique Cisneros, Sean Edwards, Carlos Kauffmann and Nick Tandy. The MOMO team also had a very fast Porsche GT3 that really could have finished in the top five of the 50th running of the Rolex 24 At Daytona.
The team practiced well on Thursday and Friday and Sean Edwards was the qualifying driver. For his second participation in the Rolex 24 At Daytona Edwards was given the honor to qualify the No. 26 MOMO NGT Motorsport Porsche GT3 on Thursday afternoon. Sean qualified the MOMO car in 13th place and he started the race from the 7th row before an estimated 80,000 spectators.
Sean Edwards was able to show his muscles and the competitiveness of his MOMO NGT Motorsport Porsche. He went from 13th to leading the race after only 75 minutes of racing. Each of the drivers were able to run their stint without any major problems.
The MOMO NGT Motorsport team continued their problem free race and the drivers started to build top five finish expectations until 6:30 AM Sunday morning.
Following a routine pit stop and a brake change, a MOMO NGT Motorsport crew member discovered that the car had a damper problem and the car was immediately pushed back to the garage for repair. Sean Edwards was behind the wheel at the time and was 10th before the incident. Unfortunately the problem cost the team several positions and after a 20-minute repair job, the 26 MOMO car restarted in 17th place.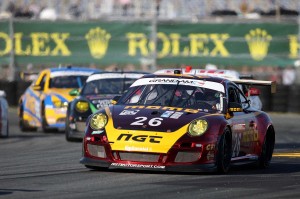 After that problem that put the car too many laps down, the MOMO NGT Motorsport drivers were never in contention to come back in the top ten. Another problem 51 minutes before the end of the race forced the 26 car driven at the time by Nick Tandy to visit the garage because of a battery problem. The problem was fixed by the crew and Carlos Kauffmann was able to return to the track and cross the finish line for the MOMO NGT Motorsport team.
Led by team owner Ramez Wahab, the NGT Motorsport team raced and finished its first Rolex 24 At Daytona. The next major rendez-vous for the MOMO NGT Motorsport team is the MOBIL 1 12 Hours of Sebring next March.