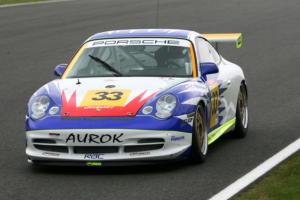 The Edwards/Warburton duo stuck their Porsche on Pole today!!! They got 2 poles in the GT3 and Individual class with the best time of 1.57.595 set by Sean Edwards after an amazingly quick lap, almost 2 seconds quicker than he went in testing. They were just 0.034 ahead of the 2nd place Porsche 996 GT3 of Quaife/Mosley and the 3rd place Ferrari 360 was only 0.259 behind. The rest of the grid was almost a distant second behind the pace set by the top 3 cars
"I would just like to congratulate the team for their great effort to get us on the grid here this weekend! They have done a great job on setting up the new car for this race and Steve and myself are working really well together.
We are looking strong for the race, we are going to have a great battle with the Quaife car and the Ferrari although we are not eligible for the GT3 class honours because of having to change car.
We will try to win the Invitation class as well as the GT3 class on merit, although we wont be classified in the GT3 class, people will still know who would have won the race." said Edwards.
They are certainly looking like a good strong team for the 2 Hour race tomorrow and they will be setting their sights on win in both classes!