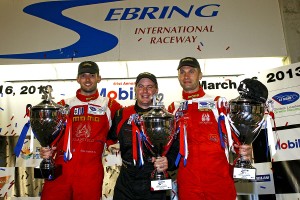 A last lap misstep by another GTC team afforded the No. 30 MOMO NGT Motorsport team of Henrique Cisneros, Sean Edwards and Marco Seefreed to collect a podium finish in the 61st Annual Mobil 1 Twelve Hours of Sebring race.
The sister car, the No. 31 MOMO NGT Motorsport Porsche, led the GTC class for a couple of hours before a small problem with the brake light derailed their chance at a podium. Kuba Giermaziak, Carlos Gomex and Mario Farnbacher were the pilots of that entry.
The podium result for the No. 30 MOMO car puts them on a good track in the GTC championship with a third place standing in the points championship
Henrique Cisneros, MOMO owner/driver No. 30 MOMO NGT Motorsports Porsche GT3, who drove a double stint: "What a fantastic finish! We knew we didn't have the car to go for the win but we were hopeful for a podium.
The team did a fantastic job on the pit stops all day. For overall time, I think we were the second or third team with the least amount of time in the pits. We were very consistent and the team did a great job.
In the end during the last hour we always said we need a little luck on our side to be able to make it to the podium and luckily, with literally three corners to go, the third place car had a problem.
I think they ran out of fuel, and we passed them on the very last lap. Obviously luck was on our side. We couldn't have asked for a better finish. We're proud of the work everyone did and all the other drivers. We're leaving with a very happy third place."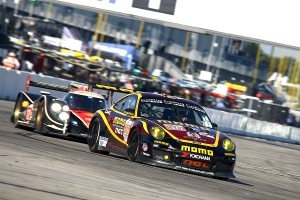 Sean Edwards, driver No. 30 MOMO NGT Motorsports GTC class and starting driver: "I was pushing the last two hours like crazy. The car was amazingly quick. It was unfortunate we got hit by the 45 car.
I think it took the whole front bumper off and they didn't even get a penalty for it which really ruined out race. Then on the last lap, I was cruising around and I saw a GTC car struggling out there so I dropped it down a gear and started pushing it.
It was the third place car. I managed to get by him with two corners to go. It was a great end to a not so good race but we'll definitely take it for the podium. Everyone did an amazing job. Congratulations to the whole team."
Marco Seefried, driver No. 30 MOMO NGT Motorsports GTC class and Sebring rookie: "It was a very surprising race to the very end. I think the TRG #66 car ran out of fuel on the last lap. We got some luck at the end because previously we were unlucky.
I'm really happy with the podium. That's a good result. I'm proud to be here, my first time and a podium. Thanks to NGT, thanks to MOMO and thanks to Porsche. It was really a great race and a great experience.
Kuba Giermaziak, driver No. 31 MOMO NGT Motorsport driver GTC class: "Our race was going well at the beginning. We had to struggle because we started from the back. We got back to Top 3. First we lost the lights during the day.
We don't know how it happened, but it just fell off, probably from the vibration. Then Carlos (Gomez) got hit from the back. Luckily, we managed to fix the car under yellow.
We put the light in and fixed the rear bumper so we were sure everything was okay, but we didn't have the brake light. We had to stop again to fix it. We were leading the race quite easily with about an eight second gap.
The crew tried to fix the light and they managed. Unfortunately, it took over 10 laps because of how they had to fix the wiring. At least we got a podium on the second car.
We should be happy for that because they drove much of the race without the front splitter, which is difficult to drive so they did a great job. This is a good finish for them for the season. For us, I think we will come back here next year and try to win it again."
Mario Farnbacher, driver No. 31 MOMO NGT Motorsport driver GTC class and Sebring rookie: "We were leading three quarters through the race. We had a problem with the rear light and had to pit to fix it which cost us 12 laps.
It was not possible to get those laps back. It was a tough race. I think the team did a good job. Maybe at Petit we will do better and we finish on the podium."
Carlos Gomez, driver No. 31 MOMO NGT Motorsport driver GTC class: "It has been a great experience. Obviously with what was going on in the ninth hour when we were leading the race, this is not the result we expected with that performance.
The guys did a great job in pit lane, as did my co-drivers. A little part, the brake pedal sensor, is what took us out of the race. It took the guys 30 minutes on pit lane to find and solve the problem.
Who would have thought it was that. But that's how it is. Sometime you need a little bit of luck to win this race and we didn't have it today.
The next race for the No. 30 MOMO NGT Porsche GTC of Henrique Cisneros and Sean Edwards will be Round 2 for the Tequila Patron American Le Mans Series at Long Beach race on April 19-20.