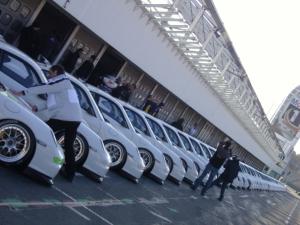 Sixty Porsche 997 GT3 Cup cars were delivered to the teams of the Porsche Mobil1 Supercup and the Porsche Carrera Cup in Hockenheim on the 4th of March. This was followed by a two days test session for 26 teams from both championships, on the Formula 1 GP Circuit.
With the two-day test now complete and positive feedback from everyone involved, the season opener of the German Carrera Cup and the Supercup has ended in Hockenheim. The new 420hp 997 GT3 Cup car was considerably faster than the official Supercup lap record.
Sean Edwards was by far the best Supercup rookie in 3rd position, setting a time of 1.42.558, only .204 off 1st position. "I have known it before", his team manager Franz Konrad was pleased. "It was the right decision and I am convinced that Sean will provide some surprises this year! The test was very meaningful because almost all of the teams competing in the Supercup participated. Not to mention all of the good drivers in the German Carrera Cup were here, who all know each and every meter of Hockenheim."
"The test went very well", commented Sean. "We used the first day to really bed the car in for the season ahead and put around 500km on it. Hockenheim was a new track for me and I have also never driven on ceramic brakes before, so it was a lot to take in! It has been really good for me to practice qualifying and race runs, which should put us in a good position for Bahrain. The team had a good base setup, which we worked on along with Phil Hindley (Manager), to suit my driving style and we ended up right at the front, which was great!"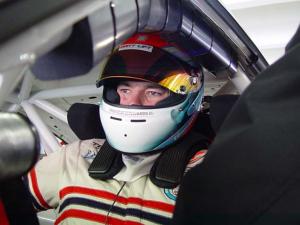 Directly behind Sean were some formidable Supercup names such as Nicolas Armindo, Damien Faulkner, Jeroen Bleekemolen, David Saleens, Danny Watts and Patrick Huisman. The top 17 cars being covered by only 1 second!
Former DTM driver Christian Abt managed only 33rd. "Its a terrific, but not an easy to handle race car. I still will have to get used to it", he says and with a laugh delivers the reason. "Too few feet for too many pedals", he explains with a hint to the fact that as a DTM-driver he is not used to blipping the throttle when shifting down the gears.
For all the teams of the Porsche Mobil1 Supercup and the German Carrera Cup, the preparatory phase of the season starts now. The Porsche Mobil1 Supercup will have its first round in Bahrain on the 5th of April and the Carrera Cup starts the new season in Hockenheim one week later.
This entry was posted on Thursday, March 6th, 2008 at 9:26 PM and is filed under
All
,
Porsche Cup
. You can follow any responses to this entry through the
RSS 2.0
feed. You can skip to the end and leave a response. Pinging is currently not allowed.