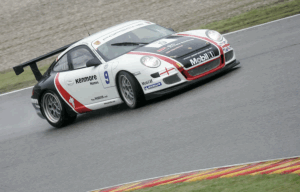 We came to Mugello thinking we still had a slim chance to win the Drivers Championship and we thought that there was no chance to win the Constructors Championship anymore.
Testing went pretty well, although it was changing conditions we ended up 7th and 9th in both the sessions. We tried various different settings in the wet and tried to work on a race setup, as we thought it would be wet for the weekend!
Phil (Keen) drove the first qualifying session as he was slightly slower in practice. He went out about five minuets into the session, to try and set a time, the track was getting dryer and dryer each lap. We took the risk to send him out late and we very nearly got caught out as there were several red flags, meaning that with three minuets left on the clock, we did not even have a time in! So Phil had a 1 lap shot at quail and he did very well considering the circumstances, putting the car in p9 for race one.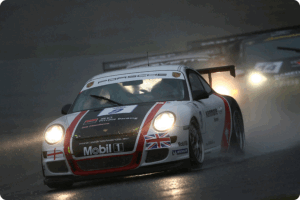 I did the second qualifying as usual and went out immediately on wets to set a banker lap time. The team told me over the radio to pit for slicks, but I was hesitant at doing it as the track was still very damp! Nevertheless I came in a put slicks on, which proved to be the perfect time to do it. It took 3 laps for them to come up to temperature, which left me 3 laps to set good times and I was by far the fastest car on track. When the other cars slicks got up to temperature, the battle was on, with me and Claus Ludwig fighting for pole position in the dying moments of quail. I piped the multiple Le Mans and FIA GT winner by just 0.189 of a second to secure my first ever pole position in FIA GT3!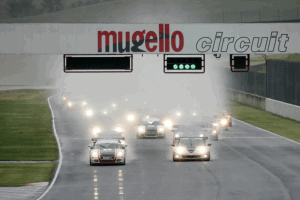 In race one, Phil had to start the car in 9th on the grid in the torrential rain and I mean monsoon conditions! He dropped a few places at the start because he just couldn't see where he was going, but after two laps he started to push and before we knew it he was up to p9 again. Then he got up to p5 and then he caught the next bunch and got up to p2! He drove amazingly and caught the huge gap to the leading Ascari of Ben Collins, but couldn't get past him due to the visibility. We decided to bring him in early and change over to me and try to get some clear track. I got in and noticed that he was not joking about there being no visibility! The windscreen was all misted up, so you couldn't see a thing, add the spray of 40 odd GT3 cars and it was almost impossible to drive. The team came over the radio and said the leading Ascari is 20 seconds in front, I pushed hard and caught him up and passed him with ease. The Porsche was going great in the wet, even though it was aquaplaning at over 140mph in a straight line! I just tried to follow the white lines around the track and finish the race. I was loosening my belts down the straight to try and wipe the screen and had to lean over to try and see where the track was out of a little gap at the bottom of the windscreen!! Andy Thompson in another Ascari caught me slightly at the end, but I had it under control and came across the line to secure our second victory in a row! Even better news is that the championship leading Viper of Borhauser finished down in 8th position and the second place Viper finished in 3rd. This meant that I had taken over the lead of the FIA GT3 championship with 1 race to go!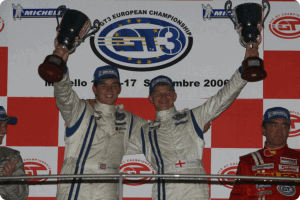 I started race two in the best possible position, P1. All I had to do was finish in front of the 2nd and 3rd place Vipers and I would be champion. I got a good start and held the lead up to the first corner, but Claus Ludwig cut across me and took the lead! Only 3 corners later the hugely experienced driver threw it off into the gravel on his own and handed me back the lead! My team mate Paul made an awesome start and was up to P2 behind me and acted as a very nice cushion from the other cars. I put my head down and pulled a 3 second gap from Paul in a few laps, but Andy Thompson was on a charge, with his car working very well in the damp conditions. He caught me pretty quickly and I was not about to defend him and risk having a crash, after all I only needed to finish ahead of the Vipers, although it is always nice to win! I followed Andy for the rest of my stint, just keeping him in sight before coming into hand over to Phil. We had a good pit stop and Phil soon caught and passed the slower driver Allison in the Ascari. He then just took it easy out front, not taking any risks and keeping the gap at about 7 seconds. He crossed the line in first position just over 8 seconds clear of the Ascari, to give me victory in the overall driver's championship and Porsche championship! Points from the other two cars in the team also provided all of us with the Constructors championship as well, which was amazing as it was almost impossible to win that coming into this round!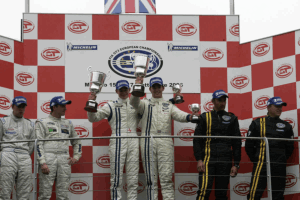 It was just a magical weekend with us getting Pole Position, two race wins and 3 championships! Everyone in the team worked so hard to achieve this goal and we did the clean sweep of everything.
I need to say a HUGE thank you to Tech 9 Motorsport, Phil Hindley, Dan, Ross, Phil Keen, Dimitris, all my family and main sponsor SG Hambros, as without any of these people this would not be possible. I really can't thank these guys enough for this and I hope to have lots more success with the Tech 9 crew in the future.
Next year, who knows, I am open to do anything at the moment. The likely step would either be into GT1, GT2 or Porsche Supercup. I will wait and see what offers come my way and how it all pans out over the winter.