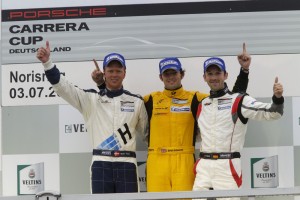 Despite of starting from position 5, 'Team Deutsche Post by tolimit' pilot Sean Edwards dominates the Porsche Carrera Cup race at the Norisring from lap 2. After four wins in Porsche Mobil 1 Supercup, he achieves his maiden victory in the German one-make-cup. Team mate Jeroen Bleekemolen starts from position 8 and finishes sixth. Edwards continues to lead the driver standings followed directly by Bleekemolen, whereas 'Team Deutsche Post by tolimit' leads the team standings with a gap of 50 points.
Untypically mixed weather conditions converted the race at the Norisring in Nuremberg into a glissade. Despite of his start from position 5, Sean Edwards was able to take the lead already in lap 2. The rain specialist managed to find the ideal line and overtook his competitors Tandy, Ragginger, Seyffarth and Rast before consequently winning the race.
Jeroen Bleekemolen managed to catch up to position 5 in the middle of the race, however fighting with dismantling tyres, had to settle for position 6 in the end.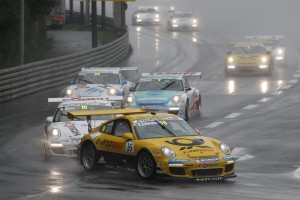 Sean Edwards: "What a tough race. The first corners have been simply crazy, but I managed to find the ideal line and caught up to position 2. My former team mate Sascha Maassen showed me, how to get best through the first corners. Thanks for that. Afterwards, I was able to pass Ragginger, too. A great race. Thanks to the team for providing me with such a great car."
Jeroen Bleekemolen: "It was a nice race with many duels. I was able to catch up to position 6. Although I would have expected a bit more, I am still satisfied as I rank 2nd in the driver championship. It was a great day for the team, so I am happy."
Porsche Carrera Cup team manager Paul Schlotmann: "Although these mixed weather conditions haven't been ideal for the spectators, they were perfect for our rain specialist. We are proud that we delivered a perfect set-up for Sean. Jeroen fought with dismantling tyres, however, also showed a solid performance. We further extended our lead in the championship and will continue to do so. In the driver standings, Sean is in the lead directly ahead of Jeroen. Greetings go to our race engineer Kosta Kotitsas who suffered from some injuries after an accident after the last race at the Nürburgring. We hope he recovers soon. Despite of all injuries he found the perfect set-up as always."
tolimit managing Hans-Bernd Kamps: "The whole team showed a great performance. With the starting positions 5 and 8, things weren't as clear as they now look like after the race. Nevertheless, I asked Sean who the driver is who is best able to cope with these weather conditions and he told me that it would be him. And he proved to be. Congratulations. Jeroen also showed a solid performance. We are happy that on this weekend, we not only represented Deutsche Post through the 'DTM Business Lounge powered by Deutsche Post' but also on top of the podium."
All results and news about the race weekend can be found on www.facebook.com/tolimit. More information on the team is available on www.tolimit-motorsport.de
The race dates:
August 7, 2011 DTM Nürburgring, Germany
September 18, 2011 DTM Oschersleben, Germany
October 23, 2011 DTM Hockenheimring Baden-Württemberg, Germany
This entry was posted on Monday, July 4th, 2011 at 9:41 AM and is filed under
All
,
Porsche Cup
. You can follow any responses to this entry through the
RSS 2.0
feed. You can skip to the end and leave a response. Pinging is currently not allowed.