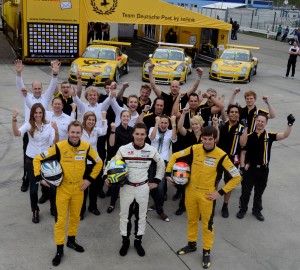 In Saturday's race, the 14th in the Porsche Carrera Cup 2012, which took place on 15th September in Oschersleben, the 'Team Deutsche Post by tolimit' was able to clinch victory in the team championship. The team from Lohne, together with René Rast, Sean Edwards and Klaus Bachler, have defended their 2011 title 3 races before the official end of season.
Paul Schlotmann is delighted: "Wow! We're team champions. Yet again. And already! The performance of the boys and girls in the technical department has been amazing. They've delivered a top performance all through the season. You're the best. I'm really proud of you all! And of course of the drivers. René and Sean have delivered sensational races to date. Klaus, in his first season in a Porsche, has done an incredible job. Have I already said that we're the best!?"
Hans-Bernd Kamps said: "The 'Team Deutsche Post by tolimit' says everything there is to say about what makes a team, and what friendship and working in partnership can deliver. We've all worked incredibly hard and have earned victory. And: It wasn't as easy as it may have appeared. Hermes Attempto Racing, Konrad Motorsport, Lechner Racing and co are great opponents, who have shown that we can be beaten. Together, we have delivered fair and brilliant motorsport. Thank you to everyone!"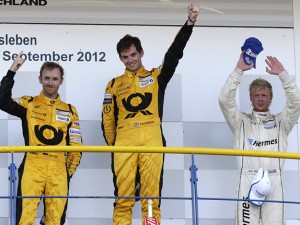 The two Porsche Carrera Cup Germany races at Oschersleben could hardly have been better for the 'Team Deutsche Post by tolimit'. After Saturday's race, the team was able to clinch victory in the team championship, successfully defending its 2011 title. René Rast finished the 14th race in first position, and demonstrated his talent with a masterful start-finish victory. His teammate Sean Edwards also started on the front row and crossed the line in second position. Klaus Bachler collected further points with tenth place.
Sunday was also a success. A further start-finish victory, this time for British driver Sean Edwards, and a second place for René Rast, means that they are so far in front of the third place driver, Nicki Thiim, that only one of the two 'Team Deutsche Post by tolimit' drivers can win the drivers' championship 2012 in Hockenheim.
"Second place is also good. I'm still at the top of the table." concluded René Rast about Sunday's race, with his eye on the final. Klaus showed off all the experience he has gained and achieved a very good fourth place. "I started in ninth position and it was my goal to finish in the top 5, which I did. Next time, we'll make it first, second and third" joked the young Austrian, pleased with his good result. "We still have Hockenheim."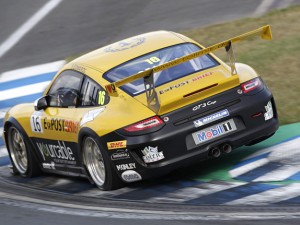 The team from Lohne will therefore be travelling to the big finale in Hockenheim with both titles, and must wait with baited breath to see which of the two drivers takes home the drivers' championship. But one thing is for sure, it will be under the flag of the 'Team Deutsche Post by tolimit'."
Team manager Paul Schlotmann is absolutely delighted: "Never before have we been able to clinch both the team championship and the drivers' championship at such an early stage. It's a luxurious feeling that we all have to get our heads round. Again to all teams: a great season. Hermes Attempto Racing has done a brilliant job. They fought right to the end and put on a great show. Brilliant!"
"Unbelievable!" said Hans-Bernd Kamps. "We set ourselves a difficult target, and we have more than reached it."
Further information, results and photos can be found at www.facebook.com/tolimit and at www.tolimit-motorsport.de.
On Mondays after race weekends, the news channel N24 broadcasts a 30 minute Carrera Cup programme at 6.30pm, with reports about the race series, the drivers, the highlights and stories about the people involved in the Carrera Cup.
The Racing Calendar:
21st October 2012 DTM Hockenheimring Baden-Württemberg