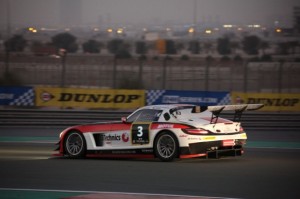 Team Abu Dhabi by Black Falcon with its drivers Sean Edwards, Khaled Al Qubaisi, Jeroen Bleekemolen, and Thomas Jager, beat strong competition from BMW, Ferrari, Audi, Mercedes and Porsche to win the seventh edition of the 24 hour race in Dubai. With a new distance record of 628 laps (3385 miles) Black Falcon scored the first 24 victory for Mercedes since 1989 at Le Mans and the first for the Mercedes SLS AMG GT3, only a year after its debut in the 24 hours of Dubai.
This year's edition of the 24 hour race in the Arab emirate of Dubai was full of international teams and drivers at their best. From the start of the race, Black Falcon's SLS was amongst the fastest and fought all the way from 15th up to 1st position in the first hour. Later in the race they lost their advantage, because it was too far away from the pit lane entry at the beginning of a code 60 and therefore could not take full advantage of a pitstop. The competition took advantage of the situation and drove past Black Falcon. Several tactical ploys by the drivers and team were able to regain the lost time and get the lead back eventually.
Sean Edwards was the one to regain the lead before midnight with a great move around the outside of another Mercedes SLS. Over the next few hours Khaled Al Qubaisi, Jeroen Bleekemolen, Sean Edwards and Thomas Jager built their lead up. Even so, after 18 hour of the race, the top three cars (Mercedes, BMW, Mercedes) were covered by only 7 seconds! Good tactics from the team, excellent pit stops from the crew and fast driving, combined with the high reliability of the SLS meant that after 24 hours, the first overall victory for Abu Dhabi by Black Falcon was achieved.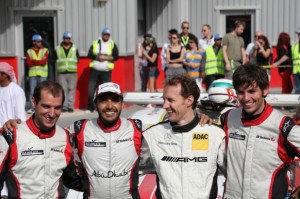 Sean Edwards:
"What an amazing race we had, it was such an amazing fight all the way to the end! I am so happy to win my first 24 hour race and to help Mercedes get the first for the SLS. Everyone performed flawlessly from the team and drivers, which is what you need in modern endurance racing, no mistakes. We spent the least time in the pits and won the race because of it."
Khaled Al Qubaisi:
"To have won the 24 hours of Dubai is a great feeling. The victory was hard fought, the race was very tight and the competition very high. Therefore, the race for the whole team was incredibly demanding. Nevertheless, everybody in the team did a great job, and my dream team of drivers performed outstandingly. It was such a great feeling to cross the finish line after so much hard work to achieve the result we really deserved!"