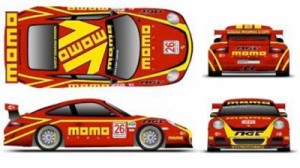 NGT Motorsport has announced MOMO as primary sponsor for the team's No. 26 GT class entry in the 50th Anniversary Rolex 24 at Daytona to be run Jan. 28-29 at Daytona International Speedway. The MOMO brand is closely associated with the great history of the Rolex 24 At Daytona, having achieved an overall win in the event back in 1998.
The No. 26 MOMO Porsche GT3 entry will be driven by Porsche Carrera Cup standouts Nick Tandy and Sean Edwards, 2011 IMSA GT3 Cup Challenge Champion Henrique Cisneros and multiple IMSA GT3 Cup race winner and pole award winner Carlos Kauffmann.
The car bears bears a striking resemblance to that of the MOMO Ferrari teams from past Rolex 24 events, including the 1998 race-winning Ferrari 333SP. Gianpiero Moretti, who had made it a personal goal to win the Rolex 24, finally won the event that year in his 15th attempt in a Kevin Doran-prepped machine. He was joined by drivers Mauro Baldi, Arie Luendyk, and Didier Theys.
NGT Motorsport was founded in 2003 by Ramez Wahab and has competed actively in the IMSA GT3 Cup Challenge ever since. The Miami, Fla.-based team won team and driver IMSA GT3 championships in 2010 and 2011 and has participated successfully in various other endurance races. The team will make its Rolex 24 debut in January.
Rolex 24 At Daytona takes place January 26 – 29, 2012
European viewers can catch the race Live on Motors TV.