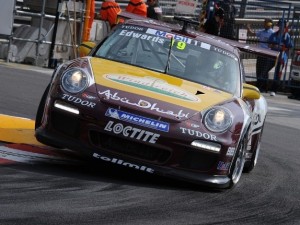 Sean Edwards was able to bring his Abu Dhabi Tourism Authority (ADTA)-backed 911 GT3 Cup undamaged through the starting collisions to defend his starting position of 4th but had to cut a chicane in order not to collide with competitors. And although the cut did not bring him any advantage, the stewards decided to fine him with a drive-through penalty.He moved upto 3rd place and held this position for the whole race whilst the team fought the stewards over the decision. But it was to no avail, four laps from the finish he had to serve the penalty and dropped down the order to 10th.
"In the starting turmoil, I didn't have any other chance than to cut the chicane. I don't understand the penalty, as the move didn't bring any advantage. Nevertheless, the stewards told us before the race that they would immediately fine, especially in the first laps. And I have to accept it if I like it or not. Silly things have cost us three podiums over the last three races, so our bad luck is now over and we will deliver a good result in Carrera Cup"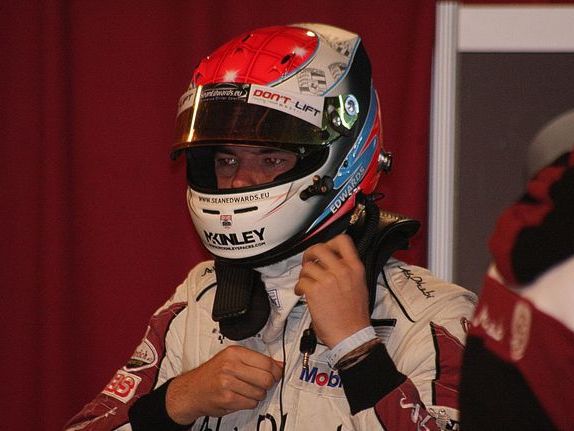 Sascha Maassen from 'Team Abu Dhabi by tolimit' battled through with clutch issues at the Porsche Mobil 1 Supercup race in Monaco – an issue which hampered his winning ambitions when it led to a drive-through-penalty for a jump start. Team mate Sean Edwards was also penalised with a drive-through and eventually scored 10th position. Khaled Al Qubaisi achieved a respectable 22nd position in his first showing in the Principality.
Widely acknowledged as the 'tight race specialist', Sascha Maassen showed his competitors in qualifying why he is fully deserving of the title after he secured a second placed qualifying spot – his best performance so far. However, at the race start his 911 GT3 Cup moved off the line too early, resulting in a jump-start penalty. "The jump start was caused by some problems with the clutch I had throughout the whole weekend. Obviously, it looked as if the endurance racer had starting problems. That's of course annoying," said the team's most experienced driver.
For sure, his premature start was noticed in race control. The following damage limitation resulted in a short engine break-down. After some additional turbulence in the first curve, he re-joined the field in position seven. The serving of his penalty finally resulted in him finishing 19th.
Khaled Al Qubaisi, the Porsche Mobil 1 Supercup Emirati rookie, also went through a turbulent race: "It was my first start in Monaco and my ultimate ambition was to stay out of trouble… which I managed to do. Nevertheless, the race was very confusing. There were a lot of rule breaches around me, which were quite irritating. I don't have a lot of experience on street races so I am looking forward to the race in Valencia to help build confidence."
Team manager Michael Seifert commented on the race weekend with mixed emotions: "We started into the race with a lot of expectations. We worked hard, the sun is shining despite of a rainy weather forecast. Now we leave with the swallow of another bitter pill. Of course, Sascha wanted to show a good performance. Unfortunately, the clutch put a spoke in his wheel. Sean had to accept a severe penalty for the second time in a row. From Khaled, we only expected him to stay on track and to manage the 107% rule this weekend. It was his first entry in the tight street course so we are very pleased with his improving performance throughout the weekend."
Technical director Paul Schlotmann added: "Let's see it positively: we are happy that all cars are undamaged. In the short period between Barcelona and Monaco, the whole team pushed the envelope of burden. The result that we expected after the qualifying performance would of course have been motivating, however, I am sure that we will get our chance to show our performance."
tolimit managing director Hans-Bernd Kamps commented: "All good things come in threes. All bad things obviously, too. Monaco is of course always a special race in which many unforeseen things can happen. Drive-through penalties of course don't belong to the anticipated ones. The whole team does a lot of hard work, for which we unfortunately have not been rewarded so far. I would like to thank our partners from Abu Dhabi Tourism Authority, Deutsche Post and Windreich AG, who all were on site to cross their fingers for us and to go with us through all ups and downs."
The next Porsche Mobil 1 Supercup race takes place on June 27, 2010 in Valencia, Spain.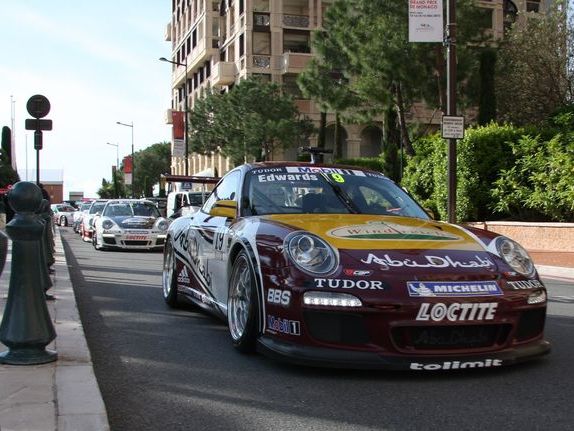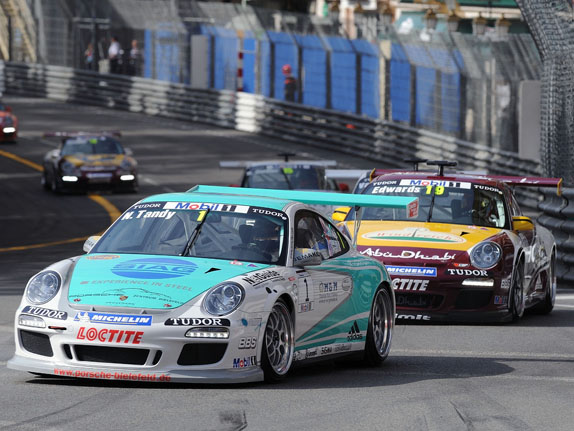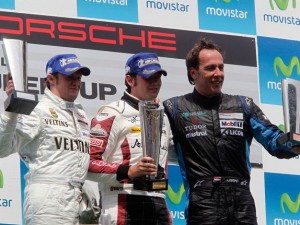 Sean Edwards from "Team Abu Dhabi by tolimit" stood on top of the podium in the Porsche Mobil 1 Supercup race in Barcelona, however, was set back to position 12th due to a retrospective penalty. Sascha Maassen thus achieves position 11. Khaled Al Qubaisi ends up on position 14 and registers his first championship points.
The penny has dropped, however, also in Barcelona the race result of the "Team Abu Dhabi by tolimit" drivers still does not show the true performance. Sean Edwards was considered being one of the front-runners for the Porsche Mobil 1 Supercup European season opener and achieved the result that complied to his performance –in the unofficial race standings. The stewards' decision to impose a 25 second penalty on him means the officials deprived him of the victory.
In free practice as well as in qualifying, the 23-year-old clearly marked his territory with position 2. "I am pretty sure to also find the 0.3 seconds that are missing to the pole sitter", was his comment after the timed session. "Unfortunately, I didn't have another clear lap in the end."
The race started perfectly for the young Brit and he immediately set himself upfront. In the following 14 laps, he delivered some great race action in his battles against the runner-off Jeroen Bleekemolen. A true racing feast for the spectators' eyes at the "Circuit de Catalunya".
The battle came to a head in the last two laps, when Jeroen Bleekemolen managed to get passed Sean Edwards. In the following counter strike, Bleekemolen closed the door and the "Team Abu Dhabi by tolimit" pilot was not able to prevent the contact. "I am sorry that I collided with Jeroen, but he didn't leave any room any more. We had a captivating fight in the race. That was great. Unfortunately, my tyres lost grip, as I pushed a bit too early in the race. The stewards decided afterwards, that my contact would have been avoidable and gave me a 25 second penalty, which was too much. But I have to accept this decision of course."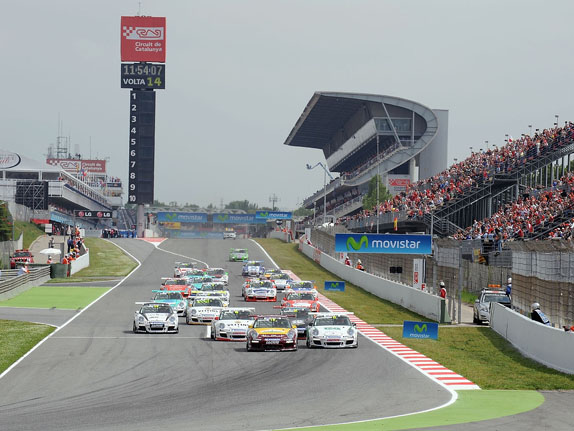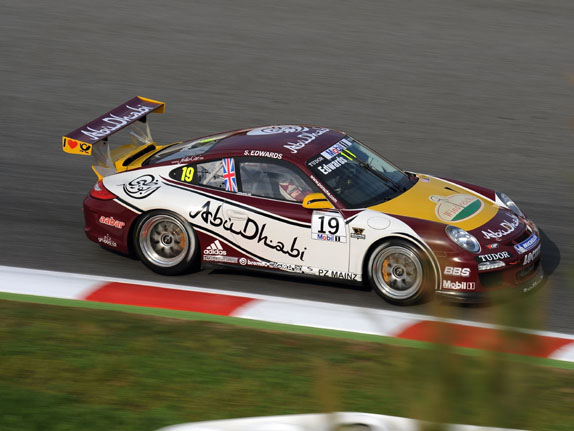 Edwards' obvious disappointment was quickly allayed by the team's backer Abu Dhabi Tourism Authority (ADTA). "This is what the sport is all about – the ability to deal with set-backs and move on to future triumphs," said Ahmed Hussein, Deputy Director General, ADTA.
Sascha Maassen was dogged by bad racing luck. After the change of the differential lock on his Porsche 911 GT3 Cup after qualifying, the balance of his car was performing as expected. Starting from position 14, the 40-year-old, however, had to evade colliding competitors and was in the end pushed into the gravel from behind. "All of a sudden, you start it all again – from the back", was his comment with a grim sense of humour. Due to the following catch-up, he finished the race on position 11. "All in all, I caught up 10 positions. The car feels better with the new differential lock. Many thanks to the whole team, who did everything to convince the Porsche race organisation that a change was necessary."
Khaled Al Qubaisi, the third pilot of "Team Abu Dhabi by tolimit" experienced a truly unleashed race. The "king of the race start", as he is called in his home country Abu Dhabi, was fully complying to his nickname and caught up five positions in the race start. "It was a great race for me. The start was perfect. In the race itself I most of all tried to hold the speed and keep out of the collisions in front of me." With a constant performance, the Porsche Mobil 1 Supercup "rookie" managed to capture position 12, however finished on position 14 due to a smaller driving mistake. "I am not only very confident, but absolutely happy. I was able to reduce the gap to the front constantly during the weekend. Furthermore, the result means my first two championship points."
"Team Abu Dhabi by tolimit" team manager Michael Seifert comments: "It is absolutely annoying. Our performance is good, however, also this time it is not shown in the result. The battle between Sean and Jeroen was captivating and in the end unfortunate for us. Sean did not want to send him off track, however, there was no other chance. Sascha is still dogged by bad luck. For Khaled we are very happy. The result means the first championship points for him and he was able to close the gap to the top. That's a great result for him."
tolimit managing director Hans-Bernd Kamps adds: "At first, the weekend showed the results that we are able to achieve. This confirms not only us in our team composition, but also the Abu Dhabi Tourism Authority, Deutsche Post and Windreich AG in partnering with us. That we had to step back from the top of the podium in the end is to be regretted. But that's racing."