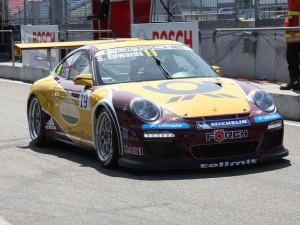 "Team Deutsche Post by tolimit" pilot Sascha Maassen finishes the first run of Porsche Carrera Cup Deutschland in Hockenheim on position seven. His team mate Sean Edwards fell back in the very last lap due to the loss of fuel pressure and saves position ten.
The race weekend started well for the 23-year-old Brit Sean Edwards. The fourth-best time in qualifying with a gap of only two hundreds of a second to the top brought him to the second row on the grid. After a successful start, the ambitious race driver was able to break away with the top flight around Nick Tandy, Nicolas Armindo and Christian Engelhart and showed the spectators some exciting battles. By the way, he was able to set the fastest race lap. Unfortunately, some of the 911 GT3 Cup suffered from the loss of fuel pressure. This technical problem hit Armindo and Engelhart as well as Sean Edwards.
"It happened in the very last lap, that I was also hit by the fuel pressure problem after it had showed up on Christian's and Nicolas' car. With a stuttering engine, I was able to save position ten. The weekend started very well, but unfortunately didn't end with the respective outcome. Anyway I was able to drive the fastest race lap. That's motivating for the next races", says Sean Edwards.
For Porsche one-make-cup repatriate Sascha Maassen qualifying position 13 hadn't been the desired result. In the race, however, the 40-year-old race driver played out his experience. Although he had to shortly drive off track at the start and needed some laps to clean his tyres, he was able to avoid all duels and collisions.
His tactics: as a tyre-saving driver catching some less-experienced with dismantling tyres. With a constant performance, the former Porsche works driver achieved position seven and profited from the technical problems of the leading group: "My qualifying didn't bring the desired result. In the race, however, I was sure to be able to catch up. Position seven is ok, but can of course be improved."
Team manager Jörg Michaelis comments: "It's of course annoying that Sean was hit by the fuel pressure problem in the very last lap. His fastest race lap and his constant performance in the race, however, showed that we will be a serious competitor in this championship. Sascha played off his routine. The result overall means 15 points in the team championship. That's ok for the first race weekend."
tolimit general manager Hans-Bernd Kamps adds: "Sometimes you need to be lucky in racing. Today, luck wasn't on our side. Despite of this, we are pleased that we were able to show some exciting races to the spectators, the fans and our partners – above all from Deutsche Post and Windreich AG."