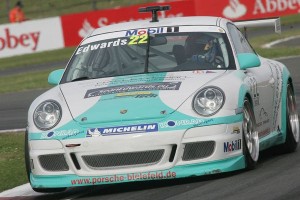 The weekend started off with a lucky escape, as Sean was caught for speeding on the way to Silverstone. He was a little bit late for his drivers briefing, but was let off with a warning only, luckily.
The 45 min testing session was a bit inconclusive, as the team didn't have any good tyres left from Magny Cours, due to damage done in qualifying by some F1 carbon parts on the track. So the team had to work hard on a setup for qualifying and were in the dark as to which way to go.
Sean's lap was good enough for 9th on the grid with his first set of tyres. "Again, my inexperience in the Supercup shows a bit, as I didn't push hard enough on my first lap with the F1 rubber down. The track was a full 3 seconds faster than in testing, it's amazing. It's still a top 10 starting position, so I should be able to get in the top 5 tomorrow."
As the race loomed closer, the rain was falling thick and fast and all the teams prepared the car for a fully wet race. "My start was good and I gained two places into Copse. Then I couldn't see anything, so I backed off and lost a few places again but then got them back through Maggots/Becketts and into Stowe."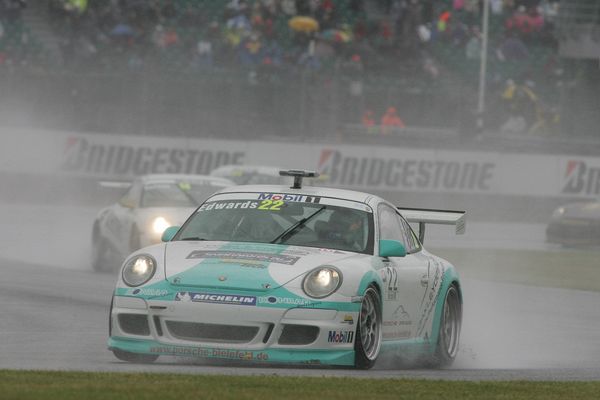 All hell broke loose after Stowe. "I saw a few cars spin ahead and just missed the UPS Porsche driver and then my team mate spun and got hit by Faulkner and I was up to 4th! I just missed hitting Rosina as he slammed his brakes on at Woodcote. As I overtook him I saw the safety car boards and the backed off and let him back past, it was really impossible to see anything in the spray and I was very lucky not to have hit him."
The restart came some four laps later and he was side by side through Copse, Maggots and Becketts with fellow Brit Danny Watts, but he managed to stay ahead. He then took immediate advantage, with a bold move around the outside of David Saleens into Stowe, for 2nd place.
There was only one person standing in the way of Sean and his first win, Stefan Rosina. He tried a switch back into Stowe, which resulted in a bit of contact and the places remained the same, for the time being. Then on the next lap he got a great run through Woodcote and lunged the unsuspecting Rosina into Copse and made the move stick to the delight of the crowd!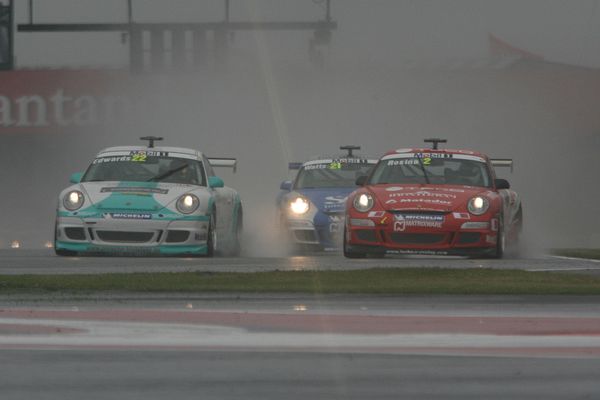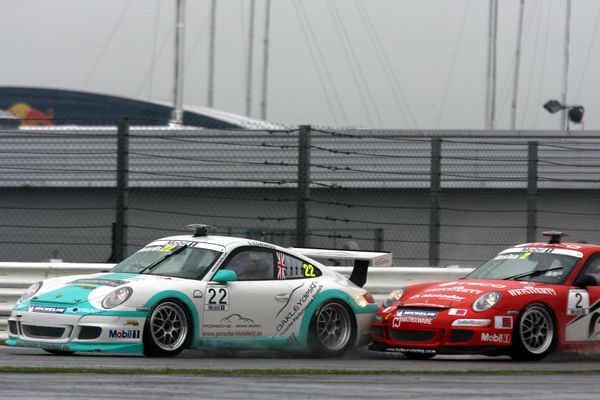 "Once I was past, I had no idea how many laps were left or how close the other cars were behind me, as all my windows were fogged up and I couldn't see anything out of the mirrors, so I just put my head down and drove near the limit, trying to stay on track and on line, which I just about did. I thought I saw the flag out of the corner of my eye and then I saw the marshals clapping at T1 and it was over. I was overjoyed and couldn't really believe it. I would like to say thanks to all the support from the fans this weekend, it has been really amazing and too my whole team for all their efforts in preparing such an amazing car and too everyone else for their support this year!"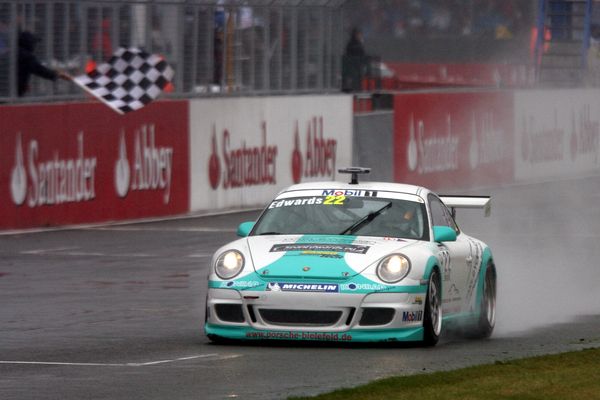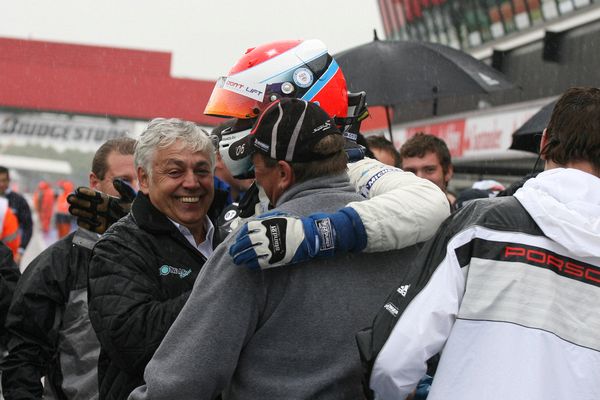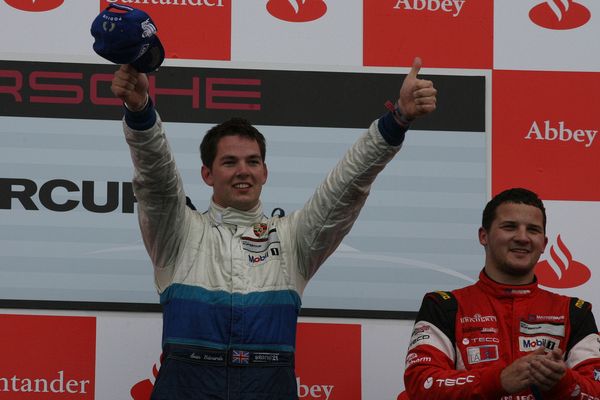 Sean had taken a tremendous win in front of his home crowd, which was 180,000 strong and to
top it all off, it was a one two for the Brit's with Watts finishing 2nd. His first win in the Porsche Mobil 1 Supercup came at the British GP of all places and we will be seeing a few more good results by the seasons end no doubt.