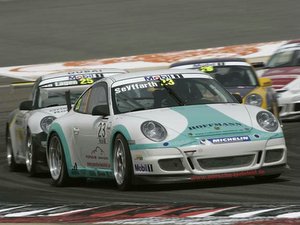 The first and second round of the Porsche Mobil 1 Supercup were held in the kingdom of Bahrain, at the Bahrain Sakir circuit. This remote desert track is the hottest on the Supercup calendar, with temperatures reaching 39 degrees Celsius outside and over 55 degrees Celsius inside the cockpit! "It will certainly be a tough race, both on the car and driver" said Sean Edwards.
This will be Sean's first season in the Porsche Mobil 1 Supercup and he is definitely looking forward to it. "I have a very steep learning curve, as I only know four tracks on the calendar (Monza, Spa, Hockenheim and Silverstone), as well as never doing a standing start in a Porsche and going back to sprint racing after being in GT's for the past three years, but I am really looking forward to the challenge."
The Supercup weekend schedule normally consists of a 45 minute practice session on Friday in order to learn the track and setup the car. This is then followed by a 20 minute qualifying session on Saturday and usually there is one race, which lasts around 30 minutes, right before the Formula One Grand Prix on Sunday. However, this weekend there will be two races; one on Saturday right before the Formula One qualifying and one right before the main Formula One Grand Prix on Sunday.
Testing got off to a good start for Sean, learning the track and bedding in a set of brake pads for the race. He ended the session in a very respectable 7th position. "The track is a lot harder to get right then I had anticipated" commented Sean "But the team has given me a good car that is working well round the track, I just need to get all the sectors right in qualifying."
Unfortunately, soon after the practice session, he was called to the race stewards, for an infringement during practice. He had a personal fastest sector, during a yellow flag. As punishment, he will lose his fastest lap from qualifying, a serious wakeup call that the FIA don't have any lenience, even to new drivers. "The penalty is more than fair, if you do not slow down for a yellow flag" said Sean "But, I had just run in my brake pads for the race, there for lapping a good 10 seconds off my normal pace. I then tried for one quick lap, but saw the yellow flag in the last sector and slowed down sufficiently. Unfortunately for me, the sector was still my fastest, as it was my first fast lap of the session and the stewards do not give any tolerance, which is not fair, but what can I do."
On top of this, he came down with a nasty virus on Friday night, which lasted for the whole weekend. Not something you want in the heat of Bahrain and on your first Supercup weekend!
In qualifying, it is needed to do two fast laps, there for determining you're grid position for race one and race two. This will only be relevant for this weekend, with the two races. Sean seemed to have a good gap to start his first qualifying run, which was vital to get a good time down, especially with his impending penalty. "I had a 100 meter gap to Saleens in the Irwin car, but he locked up going into Turn 1 and came back on directly in my path, ruining my first lap and would not let me past. Eventually I did get past, but the tyres had gone off and I came in for my second run. I had two moderately good laps of 2.05.1 and 2.05.5, which should have put me around 10th in both races, but my fastest time was taken away and I was left with a 2.05.5 and 2.06.0, which left me all the way down in 17th for race one and 19th for race two" said a frustrated Sean after quaifying. It was going to be difficult to get any sort of result from there, especially with the amount of mayhem that goes on mid field.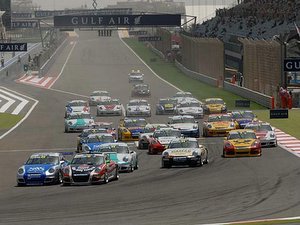 Race One Highlights
Race one saw Sean get a very good starting, making it up to 12th place by the end of lap one, from his 17th place grid position. Unfortunately on lap two, contact with 2005 Supercup champion Zampedri left Sean with bent suspension and a damaged damper. "I made a small mistake trying to get past a car ahead and Zampedri got a run on me into T12 and tried to go round the outside, it was inevitable that we had contact, as you can't really pass there. This damaged my car quite badly and I had trouble keeping the car on track, with a lot of turn in oversteer" said Sean. Even with this damage, he went on to finish a very respectable 13th place on his Supercup debut.
The team worked hard over night to repair the car, ready for race two. "All four corners of the car were bent to different settings, as per the ones I set them too!" commented Kosta, Konrad's engineer.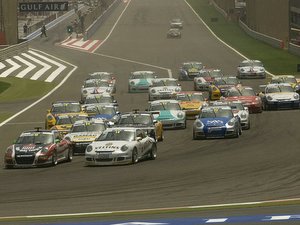 Race Two Higlights
In race two, the task was even more difficult, starting down in 19th. Sean got away to a bad start, dropping down to 22nd off the line. "I used a few too many revs and got passed by a few cars" but he wasted no time in getting right back up there. "There was an accident ahead, which I was trying to avoid and I got tagged by someone from behind, which put me into a half spin and nearly into the wall. This lost me quite a bit of time to the leaders unfortunately" explained Sean. Once he got going again, he was on a charge, pushing through the field very quickly, with some amazing overtaking manoeuvres. One of the best moves, which was caught on TV, was on four times Supercup champion Patrick Huisman and experienced Lechner driver Stefan Rosina into T1. "They were both trying to overtake one another and I got in their slipstream down the main straight. At the last minute I dived to the inside, when they were side by side and overtook them both!" One of the best moves of the weekend no doubt. He then caught up to race one winner Damian Faulkner, but he defended hard from Sean and he could not get past the Irish driver in the end. "I tried everything, but he was blocking me quite hard. In the end my tyres had gone off and I did not want to risk taking Damian and myself out of the race, so I settled for 11th."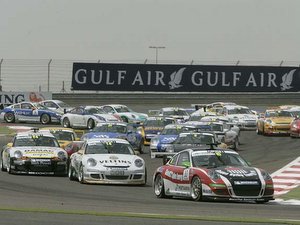 A very good debut for the quick Englishman, especially considering the circumstances. He now has a few days rest before flying straight to Germany for the VLN in the Porsche 997 RSR and then back to the UK for the first round of the FIA GT Championship at Silverstone and then back for the third round of the Porsche Supercup in Barcelona.