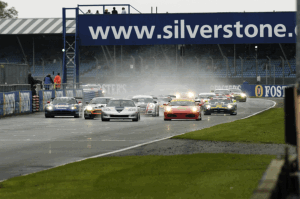 The first round of the FIA GT3 European Championship was held at the prestegious Silverstone Grand Prix track in Northamtonshire, Sean Edwards has written a race report below.
""We came to this weekend not knowing what to expect really. Were the FIA going to get the balancing right, was the Porsche going to be competitive and who was going to be the competition.
Testing went well, we ended up 3rd and 10th in the 2 sessions, it was a good start, but we still didn't know is anyone was sandbagging or not.
We came into Saturday still not knowing what to expect, except that it was going to be very difficult to get a clear lap in qualifying! Our strategy was to wait for the first 10
min and then go out; therefore most people would be back into the pits. We were the last cars to go out, but it still proved very difficult to get a free lap. I was held up on my first two flying laps and luckily I got a quick one in on my 4th lap, but by that point the tyres were past their best. Luckily it was still good enough for p5 only .3 off pole.
My co driver Dimitris did the 2nd quail and also struggled with traffic, but still managed to snatch p9 with only a few min of the session to go, this left our team all together in 8th, 9th and 10th.
Then came the race, which we were quietly confident about as long as it stayed dry! But about 2 hours before the race the heavens opened and I got in the car and went to the grid on wets. With the 3 min board lifted I got a call over the radio that said the FIA have just told us that Dimitris is meant to be starting the race not you! So I jumped out of the car and Dimitris quickly put on his suit and helmet and got into the car with about 1 min to the green flag! The FIA had forgotten to mention in the briefing that the fastest driver out of the two in quail has to start the 2nd race, which was nice of them…
The race got underway and I was still very confused at this point to why I was not in the car. Dimitris made a good start from p5 and was p3 at the end of lap 1, he made a move for p3 into Abbey on lap 2, but Hector Lester closed the door on him, resulting in them both spinning. Luckily Dimitris recovered back in 8th place and then went on a charge back through the field to get 2nd place before he handed over to me in the pit stop. We changed to slicks in the pit stop and I went on my way, unfortunately Dimitris forgot to put the car into N and left it in 2nd gear, which meant a stall in the pits for me, with about 7 seconds being lost.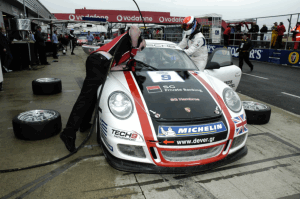 When I got back on track the team said I was p9 over the radio and they said to push 100% for the remainder of the race, as they predicted it would be a close finish. I pushed really hard and finally found myself in 1st place with 15 minuets to go. The team came over the radio with about 12 minuets to go and said that Simmonsen was catching me and was only 7 seconds behind! So I was pushing very hard, but the marshals were not helping, by displaying absolutely no blue flags to the back markers. I was getting blocked by back markers and even got hit twice, but it was not their fault as they didn't know I was leading the race. Simmonsen eventually caught me with 3 laps to go and when I got cut of by a Dodge viper going round Woodcote. This meant that he got his nose down the inside and went past into Copse, we exchanged a bit of paint work but it was a good pass. For the next 3 laps it was him being held up by the back markers now, but I could not find a way back through and I had to settle for 2nd place.
Edwards/Deverikos P2 overall, P1 Porsche, Fastest Lap 1.58.647
Murphy/Splunteren P7 overall, P3 Porsche, Fastest Lap 2.02.697
Bryant/Dumarey P9 overall, P4 Porsche, Fastest Lap 2.00.067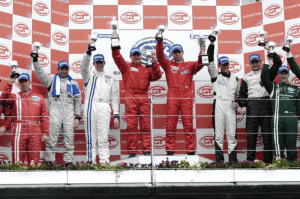 The second race was on Sunday and I had to start it in 9th place. It was a hard call on the weather, it had stopped raining, but the track was still very wet. The Scuderia Ecosse weather station said it would dry out. We opted to start on wets with more of a dry setup (stiffer car). I got a good start and was up to p6 on lap one. But then it started to rain again and the Porsche was no match for the Vipers or Ferrari's. There was nothing I could do about them passing me, they had so much grip they could take dry lines in the wet and still get a better exit out of the corners! I battled on and handed the car over to Dimitris in about 9th place, but unfortunately on his 3rd lap out he spun and stalled. This lost us about 30 seconds and we dropped back to 21st place, he battled hard to get back up and ended up 14th at the end. We did make the wrong choice on setup, which made the car very hard to drive, but this race was always going to be a gamble and this time it did not pay off.
Murphy/Splunteren P7 overall, P1 Porsche, Fastest Lap 2.15.153
Bryant/Dumarey P10 overall, P2 Porsche, Fastest Lap 2.16.295
Edwards/Deverikos P14 overall, P3 Porsche, Fastest Lap 2.15.425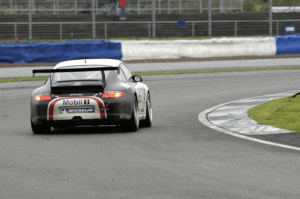 "It was a good start to the championship for us and I hope we can carry this performance on throughout the championship! Oscherslaben is going to be a good track for the Porsche and we are looking good to compete for the win there."