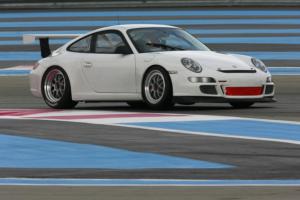 Sean Edwards tested again with Tech 9 at the Silverstone International track on Friday. The test went without incident for Edwards and he came out on top of the time sheets! "The test was good, I think we are nearing a deal to do FIA GT3 with Tech 9, we should know just before the Dijon test" commented Edwards. The 2nd official test will take place at the famous Dijon track in the East of France.
Silverston Int, Tech 9's Porsche Test Times
Sean Edwards – 1.24.779 (Old Rubber)
James Murphy – 1.26.336 (Old Rubber)
Oliver Bryant – 1.29.498 (Old Rubber)
Maxime Dumarey – 1.29.647 (Old Rubber)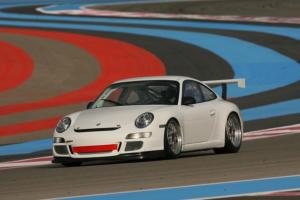 Sean Edwards attended the 2nd official FIA GT3 test at Paul Ricard this week. He was joined along with a few other drivers looking too land the Porsche seats with Tech 9. "The test went really well" commented Edwards, the 2 days consisted of running in 2 new 997's and in the 3rd sessions of the days setting some flying laps round the track. Sean completed the 2 days without incident and set a very respectable time of 2.14.2 round the French track as seen below.
Paul Ricard, Tech 9 Team's Posche Test Times.
Andy Topmson – 2.13.863 (old rubber, 8 flying laps)
Sean Edwards – 2.14.213 (old rubber, 2 flying laps)
Paul Van Splunteren – 2.15.090 (2 sets of new tyres, 20 flying laps)
James Murphy – 2.15.462 (semi old rubber, 8 flying laps)
Demitry Deverikos – 2.15.652 (new ish rubber, 8 flying laps)
Phil Hindley – 2.17.158 (old rubber, 1st laps at the track, 7 flying laps)
Maxime Dumarey – 2.19.068 (new ish rubber, 16 flying laps)
Oliver Bryant – 2.22.466 (old rubber and 7000 max rpm)